Salted caramel is fast becoming a big trend on the food scene and if you fancy making something rather special with this fab food flavour, look no further.
As well as this recipe for this amazing Salted Caramel Marble Cake, we've also got a step-by-step video in which its creator,
Great British Bake Off winner Edd Kimber,
shows you how to make it in easy steps (see below).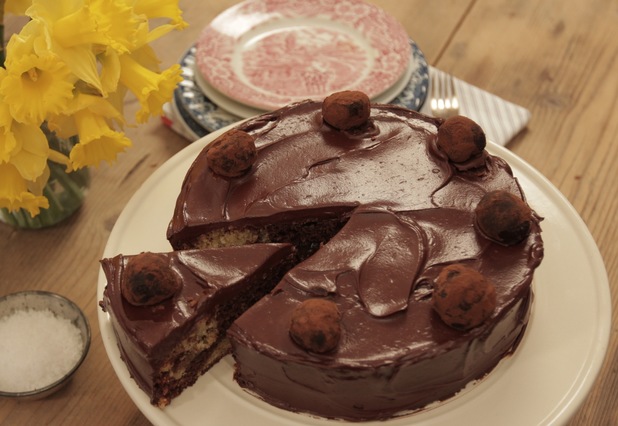 Guaranteed to give the wow factor, it's perfect for serving up to friends and family, especially on a Bank Holiday weekend!
Ingredients
For the cake:
175g (6 oz) Stork tub
175g (6 oz) castor sugar
3 medium eggs
175g (6 oz) self-raising flour, sieved
1 teaspoon baking powder, sieved
55g (2 oz) plain chocolate, melted
55g (2 oz) white chocolate, melted
For the salted caramel icing:
250g (9 oz) light soft brown sugar
150ml double cream
140g (4 ½ oz) Stork tub
½ teaspoon salt
For the ganache:
200g plain chocolate
200ml double cream
Cocoa powder and/or popping candy to finish
Sea salt crystals - optional
Method
1
Place all cake ingredients in a mixing bowl except for the chocolate and beat with a wooden spoon until well mixed (2-3 minutes). Divide the mixture into two and add the melted dark chocolate to one half and white chocolate to the other.
2
Place alternate spoonfuls of the mixture into a greased and bottom-lined 20cm (8 inch) cake tin – gently swirl through the mixture with a skewer.
3
Bake in the middle of a pre-heated oven at 170c/160 fan/gas mark 3 for 50-60 minutes. Turn out, remove the paper and cool.
4
To make the icing, place sugar, cream and salt in a saucepan and heat until the sugar dissolves and then leave to bubble for 4-5 minutes without stirring. Allow to cool for 10 minutes and then beat in the margarine – chill in the fridge until firm.
5
Split the cake, and sandwich the halves together with half of the icing. Melt the chocolate and double cream together and then chill until at a spreading consistency.
6
Spread it over the top and sides of the cake and chill the remaining ganache until firm.
7
Form the remaining icing and ganache into truffles and roll in either cocoa powder or popping candy. Use it to decorate the top of the cake and sprinkle with sea salt crystals if you like.
Prep Time
30 minutes
Cook Time
2 hour
Nutrition Information
Serves 16
Like this? Get baking with these gorgeous recipes:
Lower Fat Brownies
Ultimate Chocolate Fudge Cake
Easy recipe for New York Raspberry Cheesecake
White Chocolate & Ginger Curd Cheesecake
Check out more recipes from Stork
here.