Check out this gorgeous blood orange salad, which is seasoned with a drizzle of oil and finely sliced fennel to liven up this simple dish.
Blood oranges are in season right now and are plentiful in supply so they shouldn't be any more expensive than normal oranges.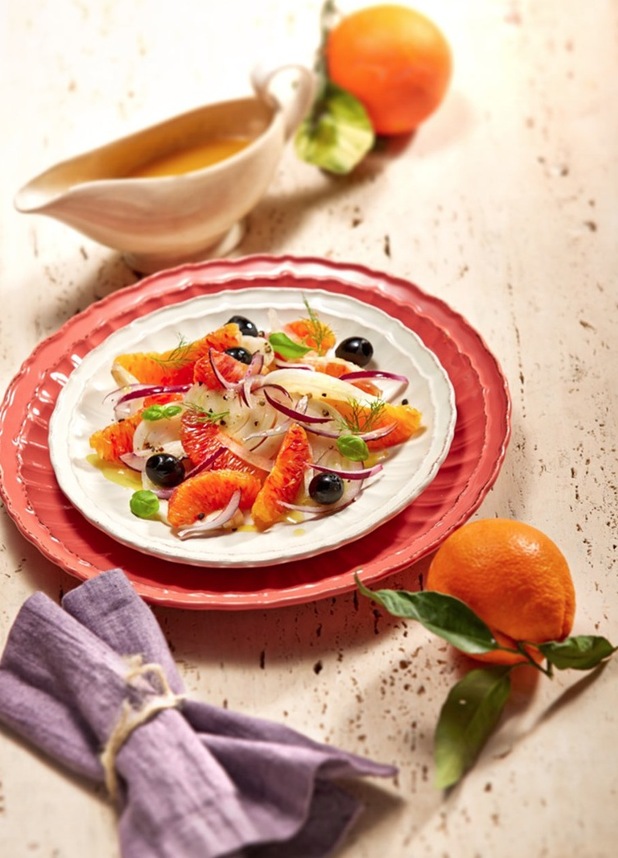 And, as well as being delicious in salads, they are also amazing juiced. They really
are
a taste of summer.
Ingredients
4 large blood oranges, peeled and cut into segments
4 fresh basil leaves, shredded
1 small red onion, peeled and finely sliced
1 fennel, finely sliced
A little sea salt, to taste
4 tablespoons Filippo Berio Gran Cru Monti Iblei Extra Virgin Olive Oil
Pitted black olives to garnish
Freshly ground pepper
Method
1
Cut both end of each blood orange and cut 1cm thick slices to place in rows in a dish.
2
Scatter the pitted black olives, sliced fennel and onion evenly across the top of the oranges.
3
Shred and scatter the fresh basil leaves.
4
Season with a little sea salt and freshly ground pepper.
5
Finish with a generous drizzle of Filippo Berio Gran Cru Monti Iblei Extra Virgin Olive Oil.
Prep Time
5-10 minutes
Nutrition Information
Serves 4 as a starter or side
Head HERE for more recipes from Filippo BerioMore great salad recipes:
Chicken Salad & Fresh Cherries
Raymond Blanc's Rainbow Salad
Mozzarella, Cherries & Prosciutto Salad
Crunchy Carrot & Apple Salad
Check out our gallery of amazing vegetarian recipes below...
Copyright: Morrisons