We love this modern twist on traditional hot cross buns, which swaps raisins for spiced chocolate and fruity orange!
Edd Kimber, winner of the first
Great British Bake Off
, created this yummy recipe for budding bakers. Make these delicious treats for the upcoming Easter weekend – they're bound to impress…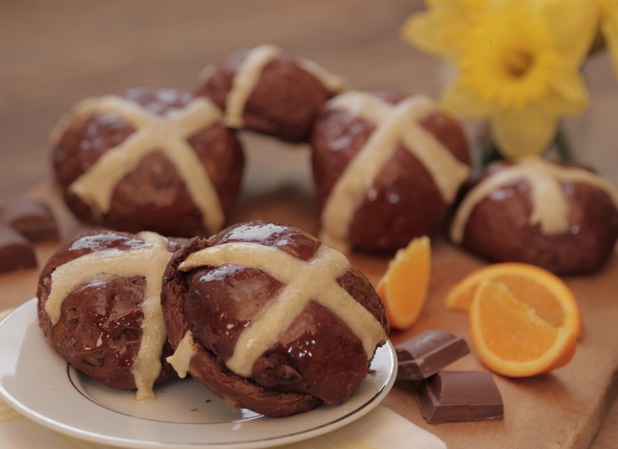 Ingredients
225g (8 oz) plain flour
1 teaspoon salt
25g (1 oz) Stork block
7g sachet fast action dried yeast
40g (1½ oz) sugar
15g cocoa powder
55g (2 oz) milk chocolate, chopped
55g (2 oz) dried apricots, chopped
Zest of 1 orange
1 level teaspoon mixed spice
150ml (¼ pint) semi skimmed milk
For the crosses:
25g (1 oz) Stork tub
55g (2 oz) plain flour
For the glaze:
2 tablespoons sugar
1 tablespoon fresh orange juice
Method
1
Sieve the flour and salt into a mixing bowl and rub in the margarine until the mixture resembles fine breadcrumbs. Stir in the yeast, sugar, cocoa, spice and orange zest.
2
Warm the milk to 37C or lukewarm, pour in the flour mixture and mix to a soft dough.
3
Turn out onto a floured surface and knead dough until elastic and no longer sticky. Cover with lightly oiled clingfilm and leave in a warm place until the dough has doubled in size.
4
Once doubled, knead in the chocolate and apricots and shape into 8-9 rolls and place them on a greased baking sheet. Cover this with lightly oiled clingfilm and leave in a warm place for about 45 minutes.
5
To make the crosses, blend the margarine with the flour and 4 tablespoons of water. Gently remove the clingfilm from the buns and pipe the mixture into a cross on top of each.
6
Bake in a preheated oven at 210c/190c/gas 7 for about 15 minutes until golden brown.
7
To make the glaze, gently warm the sugar and orange juice until dissolved. Brush over the hot buns, return to the oven and cook for a further 2 minutes.
Prep Time
20 minutes
Cook Time
15 minutes
Nutrition Information
Makes 8
More yummy Easter treats to make:
Sweet Scotch Creme Eggs
Shortbread Easter Chicks & Bunnies
Salmon & Spicy Potato Bake
Pretty Easter Chocolate Cupcakes