Serious chocolate fans will know the name of Godiva well. It's been a luxury Belgian chocolate brand for 80 years and now its first cookery book has just been published.Chock-ful of wonderful recipes (excuse the pun!) Life's A Praline is a chocolate lover's dream, with lots of delish treats dreamed up by the Godiva chocolate experts.
We've picked out this simple-to-make recipe, Strawberry pots with a shortbread-style base and white chocolate mousse, from it. As the chef says, the tangy strawberry and rhubarb contrast beautifully with the smooth and sweet white chocolate ganache.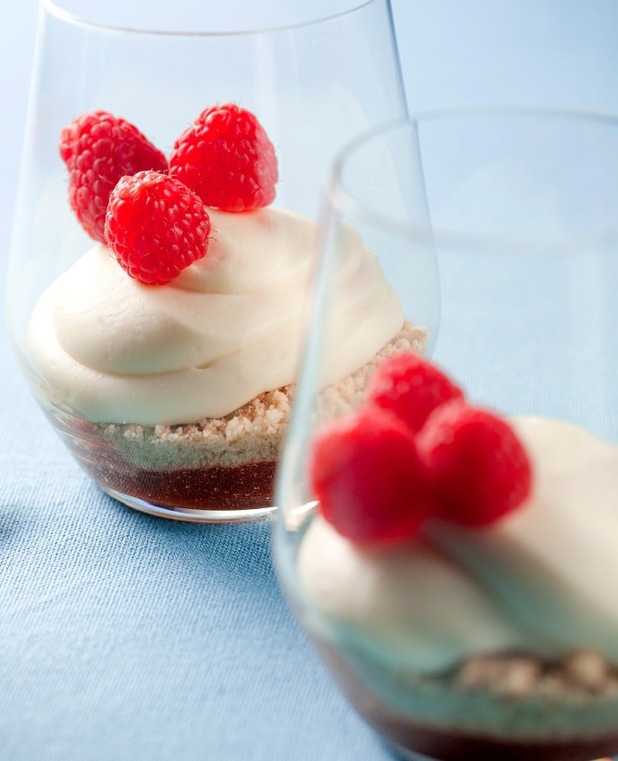 Ingredients
1 jar of strawberry and rhubarb jam
250ml full fat crème fraîche
250g white chocolate
4-5 small strawberries (or 8-10 raspberries) to garnish
200g shortbread biscuits
Equipment you will need
8 – 10 small jars
2 piping bags with plain nozzles
Whisk
Method
1
Melt the white chocolate by placing it in a heatproof dish over a saucepan of simmering water (bain-marie).
2
Lightly whisk the cream (but it must remain liquid).
3
Pour a third of the cream into the melted chocolate and stir. Add the rest of the cream and whisk until it reaches the consistency of a mousse.
4
Crush the shortbread biscuits into powder.
5
Spoon some jam into the bottom of each jar or use the piping bag. Sprinkle some crushed biscuit powder onto the jam.
6
Using another piping bag, layer the white chocolate mousse over the biscuit powder.
7
Garnish each jar with a strawberry or a raspberry.
Prep Time
30 minutes
Cook Time
5 minutes
Nutrition Information
Serves 8 – 10
Life's A Praline by Juliette Nothomb, £20 from
godivachocolates.co.uk
More fabulous chocolate recipes in Reveal's gallery below:
Copyright: Lindt