Jazz up a chicken breast with this recipe for authentic jerk chicken – a traditional Jamaican delicacy.
If you like spicy food, then this is one for you. Serve with a side of homemade chips and spring onion gravy (trust us, it's delish) for a gorgeous mid-week treat.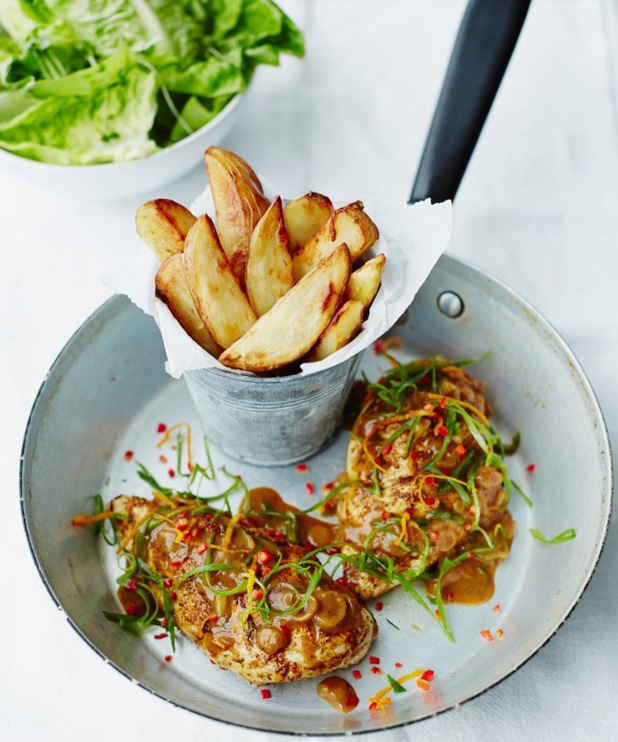 Ingredients
4 skinless chicken breasts
2 teaspoons jerk spice
700g of fluffy King Edward potatoes, washed and cut into 20-24 chunky chips
1 tablespoon vegetable oil, plus a little for brushing the chicken
1 bunch spring onions, thinly sliced, keep the pale and dark parts separate
4 tablespoons water
200ml orange juice, from a carton is fine
4 tablespoons HP sauce
Zest of 1 orange removed with a zester
1 large mild red chilli, de-seeded and finely diced
15g butter
Salt, sugar and jerk spice
Method
1
Preheat the oven to 230C/gas 8/ position top shelf (you will need a big tray for this recipe).
2
Toss the "chips" with the vegetable oil and put them at the front of the tray. Roast for 15 minutes.
3
Brush the chicken breasts with a little vegetable oil and rub each breast with a pinch of salt and ¼ teaspoon of jerk spice – more if you like it hot.
4
Put the chicken breasts onto the back of the tray and roast for ten minutes. Baste the chicken and potatoes with the cooking fat, then turn over the chips. Sprinkle them with 1 teaspoon of jerk spice and roast for 5 minutes until golden.
5
While the chicken and potatoes are roasting, make the spring onion gravy. Get a large (26cm – 30cm) frying pan and add the pale section of the sliced spring onions, 1 teaspoon of jerk spice and 4 tablespoons of water.
6
Sweat over a medium heat for 3-4 minutes until the spring onions soften. Add the onion juice and boil to reduce by half.
7
Add the HP sauce and 3 tablespoons of water. Bring to the boil – it should be thick enough to lightly coat the back of a spoon, if not boil it for a little longer.
8
Stir in the butter and season to taste – you may need a little sugar to balance the acidity. Take the pan off the heat.
9
Once the chicken breasts are cooked, transfer them to the sauce to rest for 5 minutes - put the potatoes back into the oven during this time if they need a little more cooking.
10
Heat up the sauce and chicken breasts – brush the chicken with some of the sauce. Mix the dark green spring onion, orange zest and chili together. Sprinkle them over the chicken and chips and serve.
Nutrition Information
Serves 4
Like spice? Try these recipes:
Coconut Chicken Curry
Spicy Butternut Squash Soup
Spicy Chicken Enchilada Wraps
Spicy Indian Omelette
Check out more spicy recipes from our gallery below...