Love a chocolate brownie but still looking for the ultimate recipe? We think we may have just found it, courtesy of our friends at deluxe chocolate label Hotel Chocolat.
Utterly delicious, these hazelnut and pecan chocolate brownies have a soft, gooey inside and melt-in-your-mouth texture. Heaps of chocolate, vanilla, and nuts are piled into these sweet treats. Simply make up the mixture and cook in the oven to create these irresistible goodies. You won't be disappointed.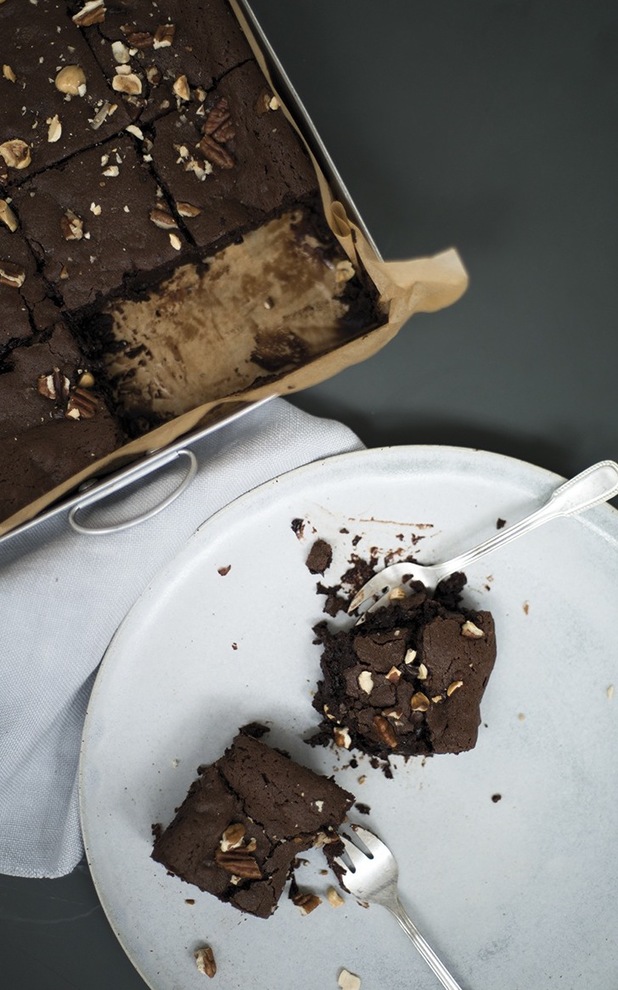 Ingredients
200g/7oz unsalted butter, plus extra for greasing
220g/7¾oz Hotel Chocolat Dark Chocolate Drops
200g/7oz caster (superfine) sugar
3 large eggs, lightly beaten
1 vanilla pod, split lengthways and seeds scraped out
150g/5½oz plain (all-purpose) flour, sifted
1 teaspoon baking powder, sifted
75g/2½oz pecan nuts, broken into pieces
75g/2½oz whole hazelnuts
3 tablespoons desiccated coconut
75g/2½oz milk chocolate drops
75g/2½oz white chocolate drops
Method
1
Preheat the oven to 180C/350F/gas 4. Lightly grease and line the base of a 20cm/8inch baking tin.
2
Melt the dark chocolate drops and butter in a large heatproof bowl set over a saucepan of gently simmering water, stirring occasionally.
3
Remove the bowl from the heat and stir in the sugar, beaten eggs and vanilla seeds. Fold in the flour and baking powder then add the pecan nuts, hazelnuts, coconut, milk and white chocolate drops.
4
Pour the mixture into the prepared baking tin and bake until the top is firm but the centre is still slightly soft when pressed lightly – about 30 -35 minutes.
5
Leave the brownies to cool in the tin on a wire rack and cut into 12 squares.
Prep Time
20 minutes
Cook Time
40 minutes
Nutrition Information
Makes 12
For more chocolate treats,
head here
.
Try out these other fab chocolate recipes:
Ultimate Chocolate Fudge Cake
Chocolate Bread & Butter Pudding
Chocolate Cocktail
Chocolate & Raspberry Tart