It's the colour of sunshine and tastes literally of summer. So why not have a go at baking this amazing gluten-free lemon drizzle cake this Easter holiday?
Lemon drizzle is a firm favourite but just because you're gluten intolerant, it doesn't mean you should miss out on this lovely cake. Also, it'll be a welcome change from the chocolate onslaught we're about to experience this weekend!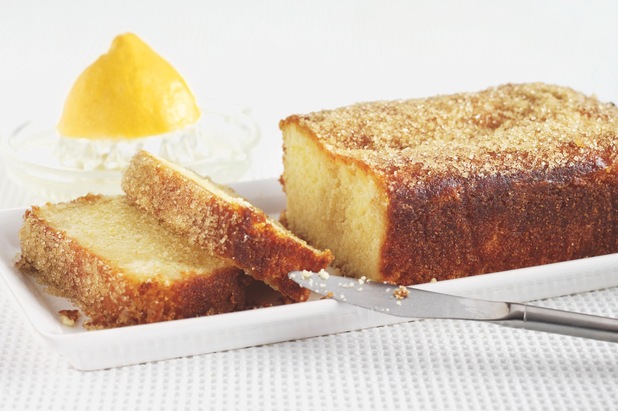 Ingredients
170g butter
250g Whitworths Caster sugar
1 teaspoon vanilla extract
2 large eggs
2 lemons, zest and juice
2 tablespoons milk
170g gluten and wheat-free white self-raising flour, sieved
25g Whitworths Demerara sugar
Method
1
Preheat the oven to 180c/gas mark 4.
2
Line an 18cm/7inch loaf tin with oiled greaseproof paper. Beat the butter, 170g caster sugar and vanilla for 2-3 minutes or until light and fluffy.
3
Add the eggs and lemon zest and continue to beat for 2-3 minutes. Next, add the juice of half a lemon, milk and beat to combine.
4
Add the flour and gently mix to combine thoroughly. Spoon the mixture into the tin and tap the cake tin gently a few times on the counter top to flatten out the top.
5
Bake for 45-50 minutes or until a skewer comes out clean.
6
Meanwhile gently heat the remaining lemon juice and 80g caster sugar in a small pan to dissolve and allow to reduce to a syrupy consistency over a medium heat for 2-3 minutes.
7
Remove the cake from the oven and prick all over with a fork.
8
Carefully spoon the hot lemon syrup over the cake and finally sprinkle over the syrup to settle.
9
Remove the cake from the tin onto a wire rack and allow to cool completely before serving.
Prep Time
20 minutes
Cook Time
50 minutes
Nutrition Information
Makes 1 loaf - approximately 10 slices
More delicious cakes to make:
Gluten-Free Chocolate, Nut & Cherry Fridge Cake
Gluten-Free Treacle Tart
Vegan Jaffa Cake Cupcakes from London's Ms Cupcake
Gluten-Free Chocolate Pudding