Easter is a great time for catching up with family and enjoying some lovely food. While hot cross buns are a traditional treat for this time of the year, we love this different variety - a cookie version!
These gorgeous cookies look just like hot cross buns and have the same delicate spiced flavour, but have a nice crunchy texture. Whip up for the family and enjoy…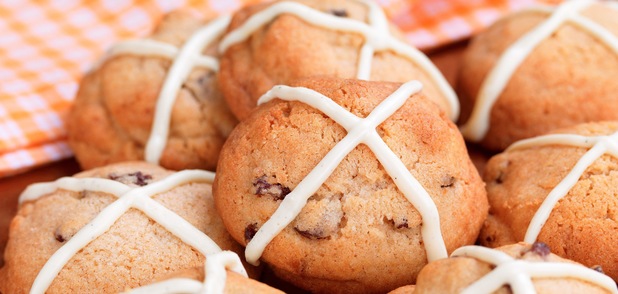 Ingredients
200g softened butter
100g Whitworths Light Brown Sugar
1 large free range egg
250g plain flour
1 teaspoon cinnamon
2 teaspoon baking powder
100g sultanas
200g white chocolate, chopped
Method
1
Preheat the oven to 200c/fan 180c/gas 6.
2
In a large bowl, beat together the butter, sugar and eggs until light and fluffy. Sift in the flour, cinnamon and baking powder and combine to make the dough.
3
Add the sultanas and 100g of the white chocolate and mix well.
4
Roll the dough into walnut-sized balls and flatten slightly. Place on lined baking trays, making sure you leave enough space for the cookies to spread.
5
Bake in batches for 10 minutes until golden. Remove and wait 30 seconds before carefully transferring to a cooling rack.
6
Melt the remaining white chocolate in the microwave on a low heat in 20 second busts.
7
Use a small piping bag or teaspoon to carefully drizzle the melted chocolate on top of each cookie.
8
Allow the chocolate to set before serving.
Prep Time
20 minutes
Cook Time
10 minutes
Nutrition Information
Makes 18 cookies
More Easter recipes to try:
Shortbread Easter Chicks & Bunnies
Salmon & Spicy Potato Bake
Pretty Easter Chocolate Cupcakes
Mary Berry's Very Best Chocolate Fudge Cake