Wondering what to cook tonight? This creamy mushroom and chicken spaghetti is bound to satisfy your rumbling stomach.
Courtesy of TV presenter, mum of four and property guru Sarah Beeny, it combines fresh mushrooms and chicken with a good dosage of super-healthy broccoli, topped off with yummy crème fraiche and Parmesan cheese. A quick, easy and delicious supper in minutes.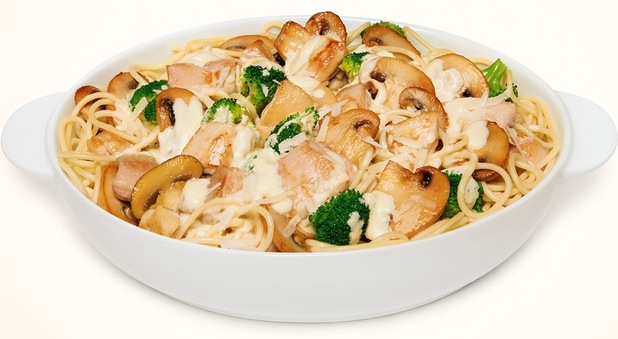 Ingredients
400g spaghetti
300g closed cup mushrooms, cleaned & sliced
2 tablespoons olive oil
25g butter
4 chicken thighs, diced
2 cloves garlic, crushed (optional)
1 small head of broccoli cut into florets & cooked
300ml creme fraiche
160g Parmesan cheese, grated
Salt & freshly ground black pepper
Method
1
Heat 1 tablespoon of olive oil and butter in a large frying pan. Add the mushrooms and fry until golden, around five minutes.
2
Season and remove from the pan. Add a second tablespoon of olive oil and add in the chicken and garlic. Cook until the chicken is cooked through.
3
Return the mushrooms to the pan along with the cooked broccoli, stir well and season to taste.
4
Cook the spaghetti in boiling, lightly salted water, following the cooking instructions. Drain and set aside.
5
Gently heat the crème frache in a separate pan. Slowly stir in 120g of the Parmesan cheese and stir until melted and hot.
6
Add to the mushroom and chicken mixture and heat through.
7
Serve on a bed of cooked spaghetti and sprinkle over the remaining Parmesan.
Prep Time
10 minutes
Cook Time
20 minutes
Nutrition Information
Serves 4
For more mushroom recipes, head to
Just Add Mushrooms
.
More delicious pasta recipes to try:
Macaroni Cheese In Just 15 Minutes
Lisa Faulkner's Spicy Meatballs
Lamb Linguine With Peas & Leeks
Simple Spaghetti With Tomato Sauce