Lamb is probably one of our favourite meats and if you want to try something different to the usual minted variety of this meat, check out this great recipe for lamb and pumpkin pie.
High quality
Welsh Lamb,
delicious pumpkin and an array of exciting spices are mixed together and covered in a crisp, rosemary pastry. This is a brilliant weekend supper!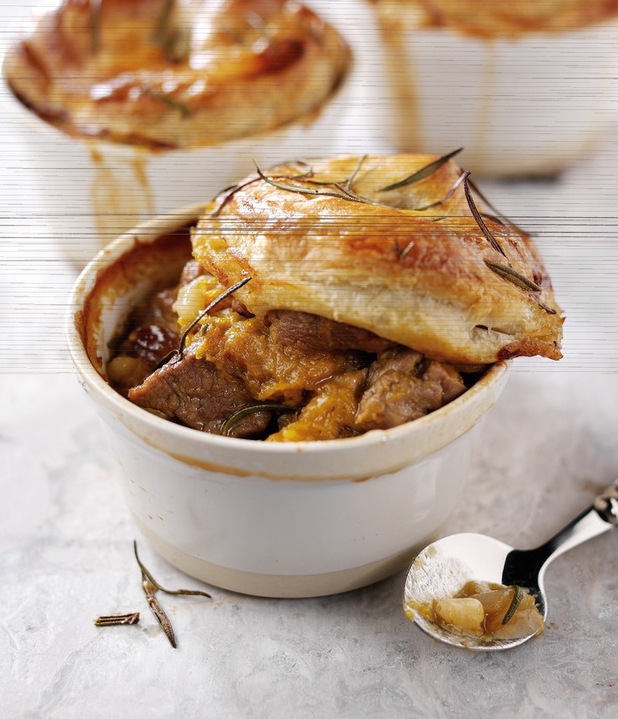 Ingredients
450g (1lb) cubed Welsh lamb shoulder
1 onion, roughly chopped
5ml (1teaspoon) ground cumin
½ small pumpkin or butternut squash, peeled and cubed (about 450g/1lb prepared weight)
300ml (½pt) lamb stock
25g (1oz) sultanas
25g (1oz) pine nuts
Seasoning
2 sprigs fresh rosemary
500g premade all butter puff pastry
1 egg and splash milk mixed together for glazing
Method
1
Heat oil in a large pan, add onion and brown slightly. Add the cubed lamb and brown well, then add in the cumin and stir well.
2
Add the pumpkin or squash, stock, sultanas, pine nuts and season well. Also place in a sprig of rosemary, before putting the lid on the pan and allowing to gently simmer for 30 minutes.
3
Remove from the heat and ladle into a "family" sized pie dish or four individual pie dishes. Reserve a little juice if quite a lot and save this for additional gravy.
4
Remove the pastry from the packaging and press small from a sprig of rosemary into it.
5
Take a rolling pin and roll out the pastry to fit the pie dish (pressing in the rosemary if it falls out).
6
Place the pastry into a dish, brush with egg and milk glaze and place in a preheated oven at gas 6/200c/400f for 25 minutes until the pastry is risen and golden brown.
Prep Time
25 minutes (plus 30 minutes simmering)
Cook Time
30 minutes
Nutrition Information
Serves 6
More tasty pie recipes:
Brazilian Beef Brisket & Coffee Pie
Butternut Squash & Stilton Pie
Chestnut & Vegetable Pie
Speedy Chicken & Vegetable Pies