Check out this amazing looking cake that we reckon is the perfect showstopper to serve up over Easter.
It has a chocolate and ginger crunch combo for a totally deliciouys flavour and the cake is even wrapped in chocolate "twigs" for a pretty finish. Doesn't it look amazing?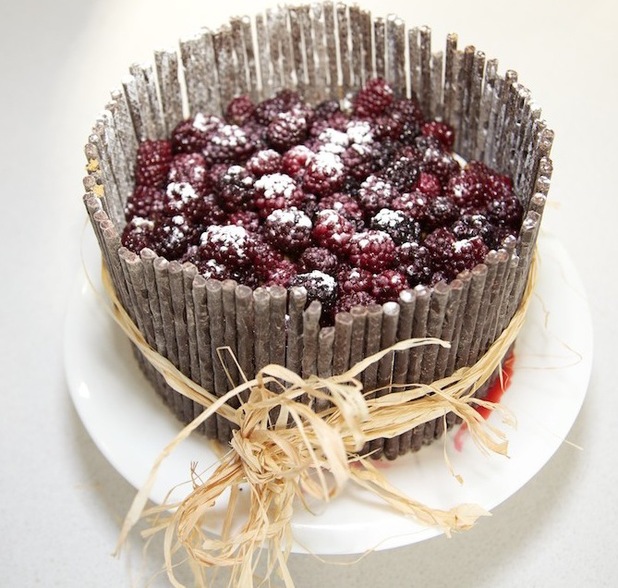 Ingredients
For the cake
50g cocoa powder
1 tablespoon ground ginger
7 tablespoons boiling water
3 large free range eggs
175g self raising flour
1 teaspoon baking powder
4 tablespoons milk
100g unsalted butter, softened
300g caster sugar
For the icing and decoration
Elizabeth Shaw Chocolate Flutes (Cocoa crunch or Orange flavour) 4 boxes
100g Elizabeth Shaw Cocoa Crunch bar
5 ginger nut biscuits
200g unsalted butter, softened
400g icing sugar
4 tablespoons milk
500g fresh blackberries
3 tablespoons blackberry jam
Extra icing for dusting
Method
1
Preheat the oven to 180c/gas mark 4/ fan oven 160. Grease and line two 20cm/8inch sandwich tins.
2
Mix the cocoa powder, ginger and boiling water in a large bowl to create a paste.
3
Add in the remaining cake ingredients and mix until smooth.
4
Divide the mixture evenly between the two tins and bake for 25 minutes or until well risen, firm and the cake is coming away from the sides of the tins.
5
Leave to cool in the tins for 5-10 minutes, then gently run a palette knife around the edges to loosen and cool on a wire rack.
6
Meanwhile, make the buttercream icing by melting the chocolate bar in a heat-proof bowl over a pan of simmering water. When it has melted, remove from the heat and leave to cool.
7
Once cooled, mix in the butter, icing sugar and milk until you have a smooth, thick icing.
8
When the cake has cooled, spread the blackberry jam on one cake and some of the chocolate buttercream on the other. Then sandwich them together.
9
Smooth the rest of the buttercream over the cake, starting with the top and working down the sides until a smooth layer has covered the cake.
10
Place the gingernut biscuits in a ziplock back and smash them until they resemble dust and rubble. Scatter over the top of the cake.
11
To make the "twigs" carefully use a small knife to cut and shave grooves into the chocolate flutes. Dust them with icing sugar and scatter about in the chocolate shavings.
12
Add them one by one around the cake, pressing firmly to make sure they stick to the cake – secure them with some string for a more rustic look.
13
Top with the blackberries and give a generous dusting of icing sugar to create a frosty effect.
Prep Time
20 minutes
Cook Time
25 minutes
Nutrition Information
Serves 6-8
More Easter recipes to make:
Easter Chicks & Bunnies Shortbread
Salmon & Spicy Potato Bake
Pretty Easter Cupcakes
Chocolate & Banana Flower Cupcakes