Forget your usual greeting card, this Sunday treat your mum to something that extra bit special by making her this edible biscuit Mother's Day card. Isn't it gorgeous?
This recipe shows you how to make these super cute biscuits and also how to stick them on to your chosen card for a personal touch. Your mum is bound to be impressed with this pretty handmade gift...
Although the method makes more biscuits than you'll actually need, you can actually freeze these sweet bites – just warm them through in the oven first before tucking in.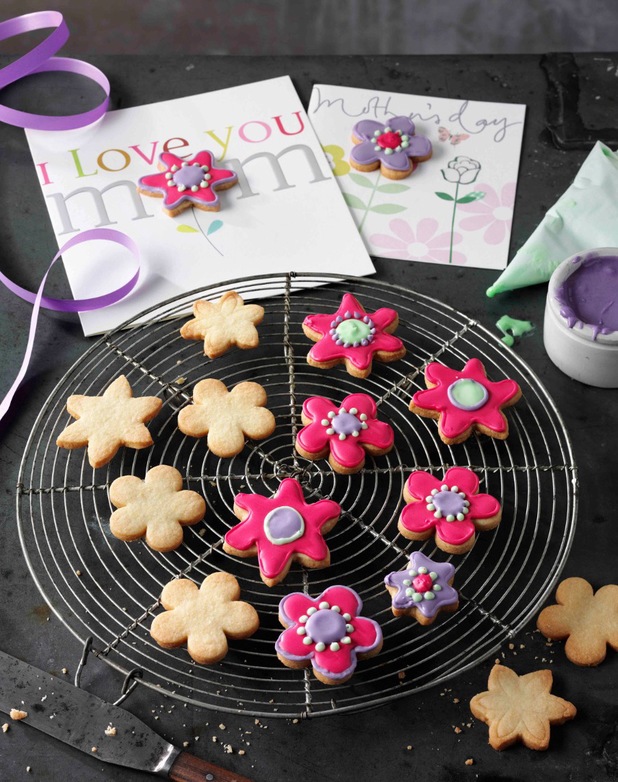 Ingredients
For the biscuits
110g (4oz) unsalted butter, softened
75g (3oz) Tate & Lyle Fairtrade Golden Caster Sugar
1 large egg yolk
200g (7oz) plain flour, plus extra for rolling
1 lemon, finely grated rind
1½ tablespoons milk
For the decoration & icing – enough for about 20 biscuits
500g (1lb2oz) Tate & Lyle Fairtrade Royal Icing Sugar
75ml (3floz) water
Violet, mint green & rose paste food colours (or whatever colours you prefer)
Mother's Day card
You will also need a small flower shaped biscuit cutter about 4.5-5cm (1¾-2") in diameter available and 2 disposable piping bags.
Method
1
Preheat the oven to 100c/fan180/gas 6 and lightly grease two baking trays.
2
Cream the butter and golden caster sugar together until light and fluffy, then beat in the egg yolk.
3
Next, sift in the flour, add the lemon rind and mix well. Add the milk to make fairly soft dough.
4
Knead the mixture on a lightly floured surface and roll out to a thickness of 5mm (1/4 inch). Use the flower cutter and stamp out about 40 rounds before placing them on baking trays, spaced apart.
5
Bake for 7-9 minutes until golden, swapping the trays halfway through. Remove to a wire rack to cool.
6
To make the icing, put the water in a bowl , sift over the icing sugar and mix a wooden spoon until thick, smooth and the consistency of toothpaste.
7
You will need about one third of the icing for piping and the rest for flooding the biscuits. Divide the icing between three bowls and colour with your chosen colours – use a toothpick to add a tiny amount – then mix well to achieve the desired shade.
8
For the icing for flooding, add a few drops of water at a time to one of the bowls, stirring until the mixture is smooth and just pourable – just a bit thicker than double cream.
9
The two bowls of icing for piping should be thick enough to hold their shape – check by dragging a flat-bladed knife through the surface of the icing and count to ten.
10
If the icing becomes smooth in anywhere between 5-10 seconds, it's ready. If not, the icing is too thick, so add a splash of water - more sifted icing sugar can be added if it becomes too runny. Divide the icing between two piping bags and cover any unused icing with cling film.
11
Snap a tiny piece off the tip of the piping bags with a pair of scissors. Pipe an outline border with your chosen colour 1cm (1/2 inch) above the biscuit, lifting the bag away from the biscuit so that the icing falls onto the surface – this makes it easier to control the piping. Leave to dry for ten minutes.
12
Next, fill in the middle of the biscuits with the flooding icing, using a teaspoon and zig-zag motion. Gently shake the biscuit to help settle the icing. Pop any air bubles with a toothpick right away or it will pop on its own and leave a hole.
13
Wait for 30 minutes or so until the icing has firmed up, then decorate the middle of the flower biscuit using a contrasting colour.
14
Place the decorated biscuits on a baking tray and dry out in the oven at 140c/fan120/275F for about 15 minutes, slightly longer if you are making larger biscuits. Cool on a wire rack.
15
To attach the biscuit to a card, pipe a little icing over the outline of back of the biscuit and lightly place it on the card to 'glue' it in position. Leave to dry flat for a few hours.
Prep Time
1 1/2 hours
Cook Time
7 - 9 minutes
Nutrition Information
Makes 40 biscuits (but decorates 20)
More treats to whip up on Mother's Day:
Berry Cake With Vanilla Cheesecake Filling
The Ultimate Chocolate Fudge Cake
Individual Chocolate Fudge Cheesecakes
Breakfast Treat: Bacon & Egg Bruschetta