If you're a vegetarian and looking for some meat-free inspiration, or you just fancy cutting out the meat, we've got a great recipe for a yummy onion tart.
Ideal for the spring months, this fail-safe, sugar-free recipe will go down a storm with the family. Serve with some fresh salad for a delish lunch or light supper.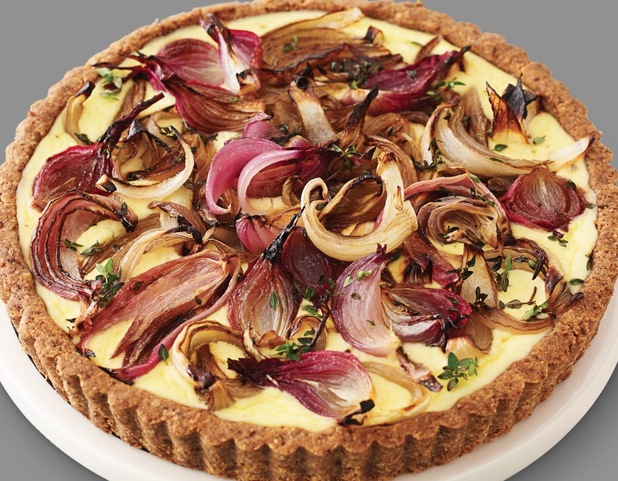 Ingredients
3 1/3 oz / 96g roasted unsalted nuts
4 oz / 75g whole wheat flour
3 teaspoons Truvía natural sweetener
1⁄2 teaspoon kosher (flaked, like Maldon) salt
6 tablespoons of cold unsalted butter, cut into 1⁄2-inch cubes
2 egg whites
2 Spanish or Vidalia onions, peeled and cut into wedges
1 red onion, peeled and cut into wedges
2 tablespoons balsamic vinegar
1 teaspoon olive oil
2 3/4 oz / 80g fat-free ricotta
2 eggs, beaten
1⁄4 teaspoon kosher salt
1⁄4 teaspoon black pepper
1 tablespoon fresh thyme
Method
1
In a food processor, pulse the nuts until coarsely chopped. Add flour, 3/4 teaspoon of the natural sweetener and salt. Pulse to combine.
2
Add the butter and pulse until the mixture resembles a coarse meal. Add egg whites and pulse just until the dough comes together and forms a ball – add a tablespoon of water if the mixture needs more water to come together.
3
Press the dough with wet hands into a 9-inch tart pan with removable bottom into an even layer and up the sides. Refrigerate for one hour.
4
Preheat the oven to 400F. Pierce the crust several times with a fork and bake for 20-22 minutes or until it does not look raw anymore. Leave to cool.
5
On a sheet pan, combine onions, balsamic, oil and 1 and ¾ teaspoons of the sweetener, and toss to coat. Roast for 20 minutes, turning the onions over halfway.
6
In a small bowl, combine the ricotta, egg, salt and pepper, plus ¾ teaspoon of sweetener and stir. Evenly spread the filling on to the bottom of the pre-baked tart shell.
7
Carefully arrange roasted onions in a rosette pattern, saving the smaller pieces for the middle.
8
Sprinkle with thyme and bake for 20-25 minutes or until the crust is golden and filling is set.
9
Leave to cool for 10 minutes before cutting into wedges.
Prep Time
1 hour
Cook Time
1 hour 40 minutes
Nutrition Information
Serves 2-3 people
More vegetarian recipes:
Butternut Squash & Stilton Pie
Vegetarian Stuffed Peppers
Aldo Zilli's Stuffed Cannelloni
Vegetarian Scotch Eggs