Tacos are so easy to make and a fun dish to share with your friends or family for a Mexican inspired dinner.
Spicy prawns are the meat used in this particular recipe, but you can swap them for whatever you fancy. It also shows you how to make your own salsa, meaning you can shun the shop-bought stuff for this much healthier version.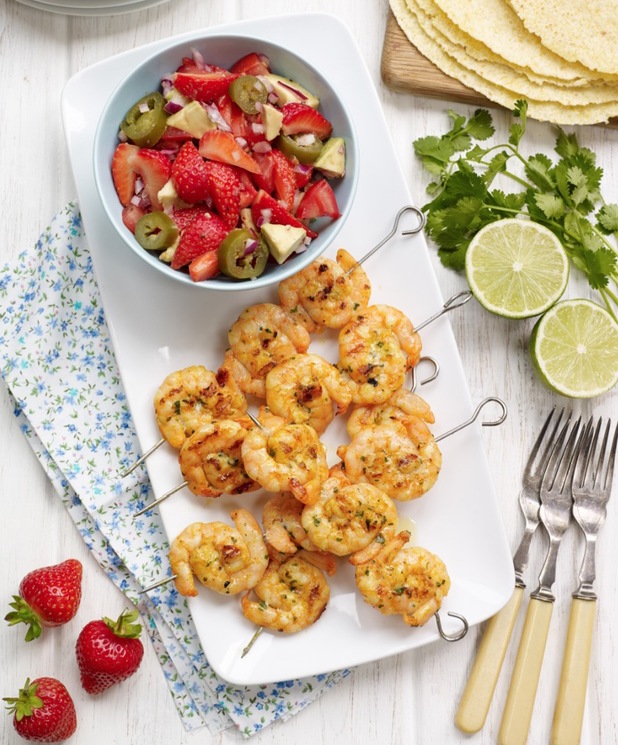 Ingredients
For the salsa
250g hulled Sweet Eve strawberries
2 ripe avocados
A squeeze of lime juice
1 red onion
3 jalapenos
1 small handful of fresh coriander
Sea salt and pepper
For the spice mix
1/2 teaspoon smoked paprika
1/2 teaspoon dried coriander
A pinch of cumin
A pinch of dried oregano
A pinch of turmeric
2 garlic cloves, chopped
50ml olive oil
800g raw king prawns
8-12 soft corn tacos
4 limes (quartered)
Salad to serve
Method
1
Start with the salsa so it can sit marinating for a while. Dice the strawberries and avocados into roughly the same sized pieces (just under 1 cm square) and mix with a squeeze of lime juice.
2
Next, finely dice the red onion and jalapenos, before mixing with the strawberries, avocados and a handful of coriander. Season and set aside.
3
For the prawns, make the spice mix by stirring the spices with the chopped garlic and adding them to the olive oil.
4
Next, de-head the prawns and take out the black line on their back. Cover them with the spiced black olive oil.
5
To heat the tacos, either dry-fry them or wrap in foil and place in the oven at 200c/180 fan/ gas mark 6 for ten minutes.
6
Place the prawns on skewers and BBQ them for about two minutes on each side (depending on thickness). The meat should turn white and the outside should turn pink.
7
To serve, place a couple of tacos on each plate, pile in the prawns and salsa, before rolling up and serving with salad and limes on the side.
Prep Time
20 minutes
Cook Time
15 minutes
Nutrition Information
Serves 4
Recipe courtesy of
Sweet Eve Strawberry
Love Mexican food? Try these:
Mini Apple & Chicken Quesadillas
Spicy Chicken Enchilada Wraps
Make Your Own Guacamole & Tomato Salsa
Check out more fabulous summer recipes below...
Got an iPad or iPhone? Reveal Mag is specially designed to fit!