Fancy making an authentic French crème brûlée? We've got an easy step-by-step-guide here.
Courtesy of French restaurant chain
Bistrot Pierre,
this is the real deal, with a crunchy top and creamy, custard filling. It's a great dessert to serve when you're looking to impress or want something that little bit special. And despite its sophisticated look, it is relatively easy to make.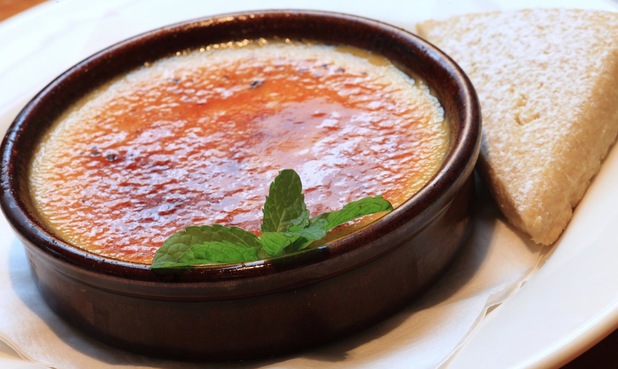 Ingredients
6 egg yolks
100g caster sugar
625ml whipped cream
1ml vanilla essence
Mint leaves to garnish (optional)
Method
1
Pour the cream and vanilla into a saucepan and heat until simmering.
2
Mix the egg yolks and sugar with a spatula in a steel bowl. Add the hot cream into the egg mix one ladle at a time while continuously stirring.
3
Pour the mixture into clean ramekins and wipe around the edge of each.
4
Place the ramekins on a baking tray and fill the tray with warm water until the level reaches half way up the ramekin.
5
Place the tray in a preheated oven at 140C for approximately 40 minutes or until the custard has set to a form wobble.
6
Take the brûlées out of the water and refrigerate them for two hours.
7
Finish each brûlée by sprinkling caster sugar on the top and then place under the grill on a high heat for 1 minute or until golden.
Prep Time
10 minutes (plus 2 hours setting time)
Cook Time
40 minutes (plus 1 minute for caramelising)
Nutrition Information
Serves 5
Try these other fab desserts:
Chocolate Bread & Butter Pudding
Salted Caramel Chocolate Pots
Ginger & Chocolate Fondant Puddings
Strawberry Tart