We love these gorgeous caramel chocolate biscuits; they're SO easy to whip up and are the perfect treat with a good cuppa!
Devised by TV chef Valentine Warner, they're dipped into chocolate and filled with yummy cream cheese. A real treat to whip up over the weekend.
You'll find it hard to resist just one of these…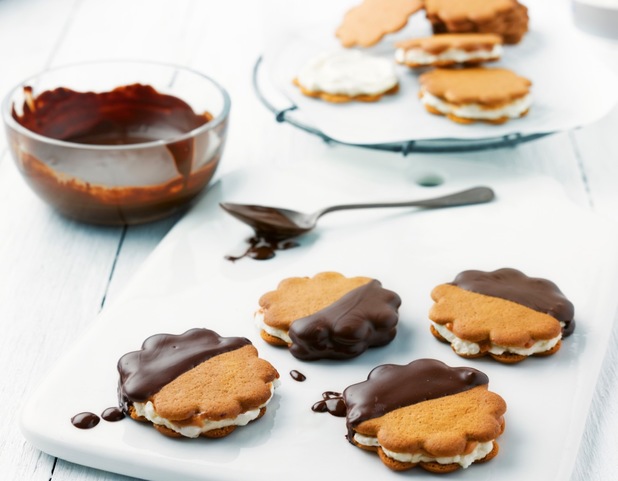 Ingredients
24 cinnamon and ginger thin biscuits
1 x 200g Philadelphia Cream cheese (you will need approx 10g per biscuit)
150g dulce de leche (you will need approx 10g per biscuit)
100g Dark chocolate 70%
25g butter
Method
1
Break the dark chocolate into a small glass bowl placed over a small saucepan of simmering water. Then add the butter, melt the two together - stir until well mixed.
2
Laying each biscuit flat on the work surface so as not to break them, spread 12 with a generous and even layer of the cream cheese.
3
Next spread a similar amount of dulce de leche or caramel over the cream cheese.
4
Sandwich the two fillings between another biscuit and half dip each sandwich biscuit into the chocolate.
5
Lay on some grease proof paper, allow the chocolate to set before eating.
Prep Time
30 minutes
Nutrition Information
Makes 12
Love sweet things? Try these:
Mini Mango Trifles
Chocolate Cheesecake Cupcakes
Cheesecake With Warm Berries
Butter Pecan Ice Cream
Check out our gallery of cake recipes below..