Not sure what to do with that leftover mashed potato? Why not make these tasty tuna fish cakes - they're really easy to make and taste amazing.
This recipe uses sweetcorn, lemon zest and spring onions for a lovely flavour. Trust us, they're great for a quick supper or lunch treat.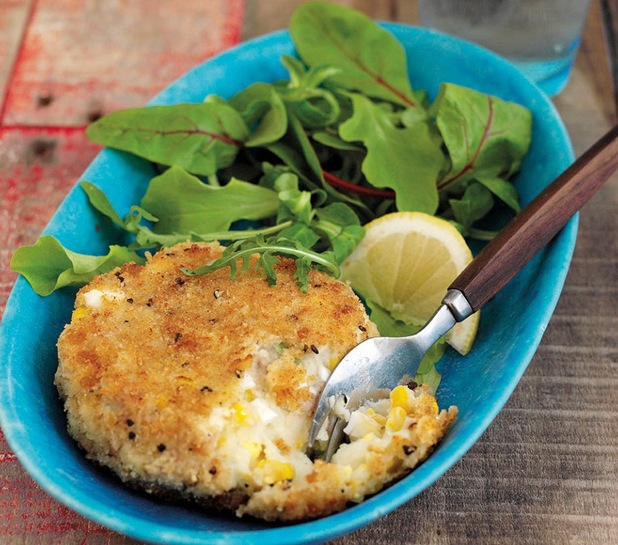 Ingredients
3 Eggs For Soldiers eggs
2 x 160g cans tuna in brine or water, drained
500g ready-made mashed potato
4 spring onions, finely chopped
100g canned or frozen sweet corn, thawed if frozen
100g dried breadcrumbs
1 teaspoon finely grated lemon zest
Vegetable oil, for shallow frying
Salt and freshly ground black pepper
Mixed salad leaves and crusty bread, to serve
Method
1
Hard boil two eggs in simmering water for 10-12 minutes. Drain them, then plunge into cold water to cool quickly. Shell and chop them.
2
Add the tuna, mashed potato, spring onions and sweetcorn to the chopped eggs. Season with a little salt and freshly ground black pepper, then form into 4 large or 8 small fish cakes.
3
Beat the remaining egg in a shallow bowl with 2 tablespoons of cold water.
4
Mix the breadcrumbs and lemon zest together on a large plate. Dip the fish cakes in the egg, then coat in the breadcrumbs.
5
Heat the vegetable oil in a frying pan and shallow fry the fish cakes for 3-4 minutes on each side.
6
Drain on kitchen paper, then serve with salad leaves and crusty bread.
Prep Time
20 minutes
Cook Time
20 minutes
Nutrition Information
Serves 4
Find out more about Eggs For Soldiers, including recipes and details of its charity
HERE
.
Like this? Don't miss these amazing recipes...
Plaice Fillets With Leek & Cheddar Topping
Homemade Fish & Chips
Deiicious Spanish-style Eggs
Gordon Ramsay's Cod & Tomato Chowder