We love this fresh salad that's great for a super healthy lunch or dinner. It combines hard-boiled eggs with crispy bacon, crunchy lettuce and tasty avocado – plus its delish dressing will really complete this dish.
Now that Spring is here, it's a perfect lunch or dinner dish as the protein in the eggs and bacon, along with the ultra-healthy avocado, will help you to feel fuller for longer. We like!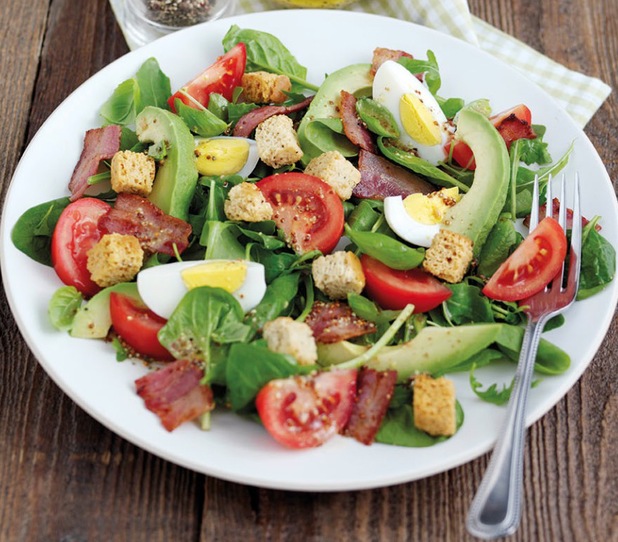 Ingredients
4 Eggs For Soldiers eggs
8 rashers streaky bacon
1 bag mixed salad leaves
1 Romaine lettuce, shredded
2 ripe avocados
4 large tomatoes, sliced
4 tablespoons olive oil
2 tablespoons lemon juice
2 teaspoons wholegrain mustard
4 tablespoons croutons
Salt and freshly ground black pepper
Basil leaves, to garnish
Method
1
Hard-boil the eggs for 8-10 minutes, then plunge into cold water to cool them.
2
While the eggs are cooking, grill the bacon rashers until crisp - drain on kitchen paper.
3
Mix together the salad leaves and Romaine lettuce and arrange on 4 large serving plates with the tomatoes.
4
Peel, stone and slice the avocados and arrange on the salads. Shell the eggs and quarter them, then share between the plates.
5
Make the dressing by mixing together the olive oil, lemon juice and wholegrain mustard. Season with salt and pepper.
6
Sprinkle the dressing over the salads, then snip the bacon rashers over the top. Add the croutons, then serve, garnished with basil leaves.
Prep Time
15 minutes
Cook Time
10 minutes
Nutrition Information
Serves 4
For more info on how you can help the Eggs For Soldiers campaign and the
Help for Heroes charity,
click
HERE
.
More healthy salads to try:
Chicken Salad With Poached Cherries
Mozzarella, Cherries & Prosciutto Salad
Superfood Salad
Watermelon, Feta & Cucumber Salad