With Mother's Day (30th March) just around the corner, why not treat your mum to this gorgeous cake that's guaranteed to wow?
This lightly whisked sponge is coated with a vanilla cheesecake filling for the ultimate sweet treat. Plus it's topped with an array of colourful berries – your mum - and everyone else - will be truly impressed.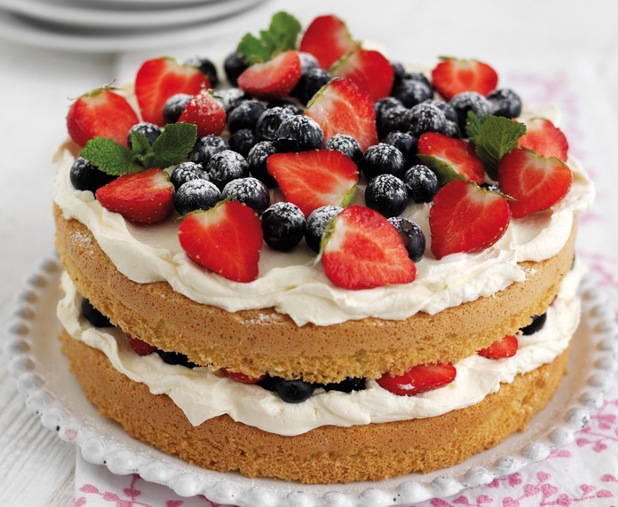 Ingredients
Vegetable oil, for greasing
3 Eggs For Soldiers eggs
100g caster sugar
100g plain flour
200g medium fat soft cheese
2 tablespoons Greek yogurt
Finely grated zest of 1 lemon
1 teaspoon vanilla extract
1 tablespoon icing sugar, plus extra for sprinkling
200g strawberries, sliced
150g blueberries
Mint leaves, to decorate
Method
1
Preheat the oven to Gas Mark 7/220°C/ fan oven 200°C. Grease two 18 sandwich tins with a little vegetable oil and line the bases with circles of baking paper.
2
Using a hand-held electric mixer, whisk the eggs and sugar together in a large bowl until very pale and light in texture - this will take about 5 minutes on full power.
3
To check that the mixture is thick enough, lift up the beaters (switched off!) - they should leave a trail for a few seconds.
4
Sift the flour into the mixture and fold it through lightly but thoroughly, using a large metal spoon. Divide the mixture between the prepared tins and level the tops.
5
Bake the cakes for 8-9 minutes until golden brown and springy to the touch.
6
Remove from the oven and turn them out onto a cooling rack. Cover with a clean damp tea towel and leave until completely cold. Remove the lining paper.
7
Mix together the soft cheese, Greek yogurt, lemon zest, vanilla extract and icing sugar. Spread half the mixture over the surface of one sponge and top with half the strawberries and blueberries.
8
Sandwich the two cakes together and decorate the top with the rest of the soft cheese mixture, the remaining berries and mint leaves. Serve, sprinkled with a little icing sugar.
Prep Time
25 minutes
Cook Time
10 minutes
Nutrition Information
Serves 6-8
Check out
eggsforsoldiers.co.uk
for more recipes and how you can help them raise money for
Help For Heroes
by just a tiny change in your weekly shop. Find them on Facebook
here.
Love baking? Try these other cake recipes:
Chocolate & Banana Flower Cupcakes
New York Raspberry Cheesecake
Coffee, Cardamom & Walnut Cake
Baked Dark Chocolate & Ginger Cheesecake
The best chocolate cake and cupcake recipes in pictures: