As the sun returns, we're swapping comforting meals for lighter, fresher options, and these spicy lamb flatbreads have gone right to the top of our must-try list.
Courtesy of the super-talented Fabulous Baker Brothers, this shows you how to make homemade flat breads before filling them with spicy seasoned lamb and plenty of fresh salad.
A cooling mint sauce is the perfect accompaniment to this spring dish and this delicious version uses Quark instead of Greek yoghurt, for a healthier option…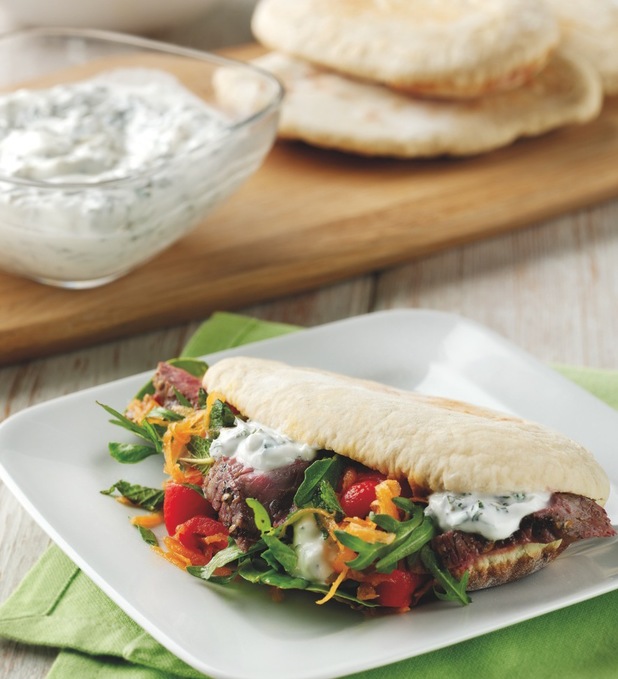 Ingredients
4 lamb leg steaks (200g)
1 tablespoon coriander seeds, crushed
Salt and pepper
Olive oil
Small bunch of mint
1 lemon
Olive oil
Flatbreads:
250g The Lake District Dairy Co. Quark
200g strong white flour
Pinch of salt
Small bag of salad leaves
1 jar sweet red peppers
1peeled large carrot
Sauce:
100g The Lake District Dairy Co. Quark
1 clove of garlic
Small bunch of mint
Salt and pepper
Method
1
Mix the coriander seeds, salt and pepper. Rub all over the lamb with a little olive oil. Leave to marinade for 30 minutes in the fridge.
2
Make the pittas by mixing the flour and quark together. It should be soft not sticky, so add a pinch more flour if needed.
3
Knead for 10mins in a mixer or for 15 mins by hand until nice and stretchy. Divide into golf size balls and roll round.
4
Heat your oven to the max 250°c / gas mark 9/10 with an oven tray or baking stone. Roll the balls out flat around 3mm thick. Place directly onto the tray or stone and shut the door. They should take around three minutes to rise. Remove and carefully cut open to eat.
5
For the sauce, crush the garlic and chop the mint. Stir through the quark and season. This will keep for a week in the fridge and is delicious with lots of things.
6
To make the salad, slice the peppers, grate the carrot, chop the mint and mix the leaves in. Dress with lemon and oil just before serving.
7
Heat a pan and fry the lamb steaks for about 3 minutes on each side for just pink steaks. Do for longer if you prefer more well done. Take out of the pan and rest for a few minutes before slicing.
8
Split the pittas, load with salad and lamb. Drizzle on sauce and tuck in.
Prep Time
30 minutes
Cook Time
10 minutes
Nutrition Information
Serves 4
More delicious lamb recipes to try:
Welsh Lamb Meatballs In A Tomato & Leek Sauce
Braised Shank Of Lamb
Lamb Linguine With Peas & Leeks
Welsh Lamb, Tomato & Goats' Cheese Tart