What's better than chocolate pudding? Chocolate pudding with a dash of stout, of course!
This yummy recipe for Irish stout and chocolate melting middles is simply divine. Gooey melted chocolate and a touch of rich stout make for the perfect pairing in this fantastic dessert. An ideal recipe to help you get into the spirit this St Patrick's Day.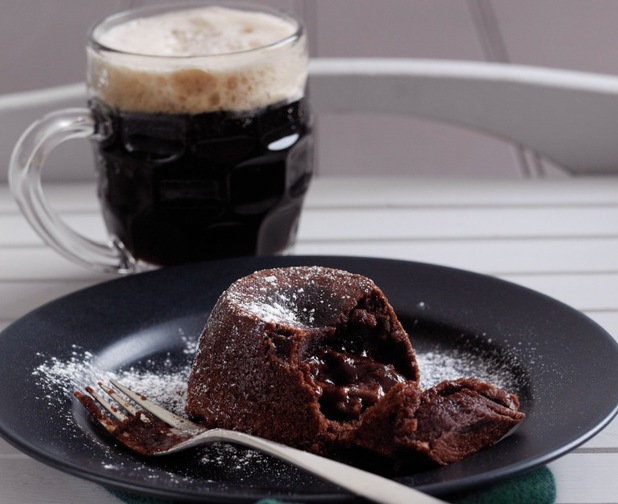 Ingredients
75g (3oz) softened Kerrygold butter, plus extra for greasing
100g (4oz) plain chocolate, broken into pieces
2 egg yolks
2 whole eggs
45g (1 1/2oz) dark brown sugar
45ml (3 tbsp) Irish stout
45g (1 1/2oz) plain flour
Icing sugar, for dusting
Method
1
Use a little butter to grease 4 individual pudding basins or large ramekin dishes.
2
Put the butter and chocolate into a large heatproof bowl, then sit the bowl over a saucepan of gently simmering water until the butter and chocolate melt, stirring occasionally. Take care that the mixture doesn't become too hot.
3
Remove the bowl from the pan and whisk in the egg yolks. Set aside to cool slightly.
4
Meanwhile, whisk the eggs, sugar and Irish stout in a large bowl using a hand-held electric mixer on high speed for 4-5 minutes, until very light and thick.
5
Sift in the flour and fold it in gently using a large metal spoon. Add the cooled chocolate mixture and fold in.
6
Share between the pudding basins or ramekins so that they are 3⁄4 full. Chill for about 30 minutes. Preheat the oven to 200°C, fan oven 180°C, Gas Mark 6. Bake the puddings for 7-8 minutes.
7
Run a knife around the rims to loosen the puddings, then carefully turn out onto serving plates. Serve, dusted with icing sugar.
Prep Time
15 minutes
Cook Time
8 minutes
Nutrition Information
Serves 4
Love chocolate? Try these other tasty recipes:
Chocolate Bread & Butter Pudding
Ginger & Chocolate Fondant Puddings
Gluten Free Chocolate Pudding
Chocolate & Raspberry Tart