No, your eyes aren't deceiving you; this really is a recipe for sweet Scotch eggs!
Scotch eggs are a British picnic staple but if you've got a sweet tooth, these are a must-try. This clever recipe swaps standard savoury eggs for yummy Creme Eggs and covers them in coconut and Maderia cake, instead of breadcrumbs. These are really easy to put together and will make a great Easter treat. We love them.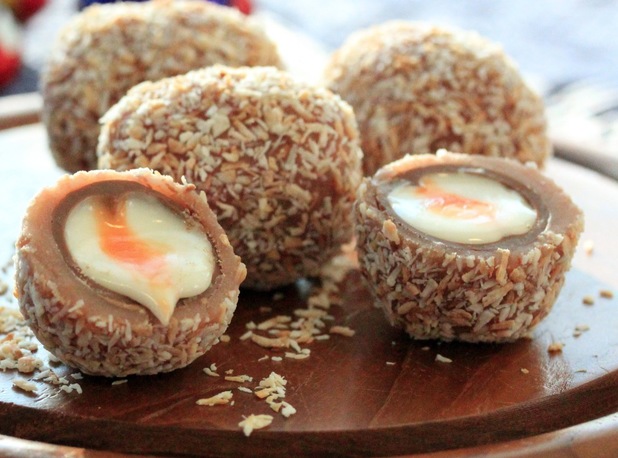 Ingredients
20g dessicated coconut
100g Madeira cake
1 dessertspoon of seedless raspberry jam
4 Cadbury Creme Eggs, foil removed
Method
1
Toast the coconut under the grill until golden brown.
2
Bread the cake into crumbs and heat the jam in a small pan until melted.
3
Mix half of the jam into the cake crumbs and mix well together to make the cake pink in colour and smooth.
4
Divide into four then form around the Crème Eggs in a thin layer. Brush lightly with the remaining jam and roll in the toasted coconut to resemble a scotch egg.
5
Cut in half and enjoy with a friend!
Prep Time
10 minutes
Nutrition Information
Makes 4 but serves 8
Try these other yummy recipes:
Easter Chocolate Cupcakes
Shortbread Easter Chicks & Bunnies
Mary Berry's Very Best Chocolate Fudge Cake
Chocolate & Banana Flower Cupcakes