A generous portion of hearty lasagne is always a way to our hearts, so we just had to share this veggie version.
It swaps your usual mincemeat for tasty chestnut mushrooms and oodles of healthy spinach. Plus blue cheese and garlic are included, leaving you with a meal that's full of flavour and completely meat free!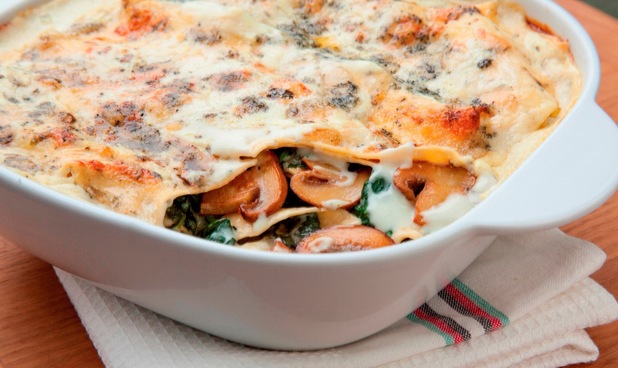 Ingredients
2x250g packs chestnut mushrooms, cleaned & sliced
3 tablespoons olive oil
1 large onion, finely chopped
1 large clove garlic, crushed
2x240g packs pre washed fresh spinach
125g blue cheese, crumbled
12 sheets ready to bake lasagne
1 large jar readymade white sauce (710g)
Salt & freshly ground black pepper
Method
1
Preheat the oven to 200 degrees c/gas mark 6.
2
Heat 1 of tablespoon olive oil in a large pan, add half the mushrooms and fry until golden, about 5 minutes.
3
Transfer them to kitchen paper and fry the remaining mushrooms in another tablespoon of oil, then remove from the pan.
4
Add the final tablespoon of olive oil to the pan and cook the onion and garlic for about 4 minutes until soft.
5
Add the two packs of spinach to the pan, cover with a lid and allow it to wilt for one to two minutes.
6
Return the mushrooms to the pan, mix everything together and season to taste with salt and pepper.
7
Use a rectangular dish approximately 24cmx18cm and spread a layer of white sauce on the base.
8
Place three lasagne sheets over the sauce followed by 1/3rd of the mushroom mixture, a layer of white sauce and some crumbled cheese.
9
Add another three sheets of lasagne and continue layering the lasagne, finishing with the final three sheets of lasagne, a good covering of white sauce and a sprinkling of crumbled cheese.
10
Bake in the oven for 35 to 40 minutes until cooked through and the topping is bubbling and golden. Serve with side salad or garlic bread.
Prep Time
5 minutes
Cook Time
51 minutes
Nutrition Information
Serves 4
We're ditching the meat this week as
National Vegetarian Week
starts today. Every day this week we'll be posting a fab new veggie recipe so keep your eyes peeled.
In the meantime, feast your eyes on our gallery of delish meat-free veggie recipes below.