If you're a bit nervous about recreating your fave take-outs at home, look no further. This recipe for spicy prawn laksa - a delicious Thai-influenced Oriental soup with filling noodles - couldn't be simpler, so why not have a go?
Bursting with the flavours of coconut and chilii, as well as a good dosage of juicy prawns, this is great satisfying lunch or light supper. Doesn't it look amazing?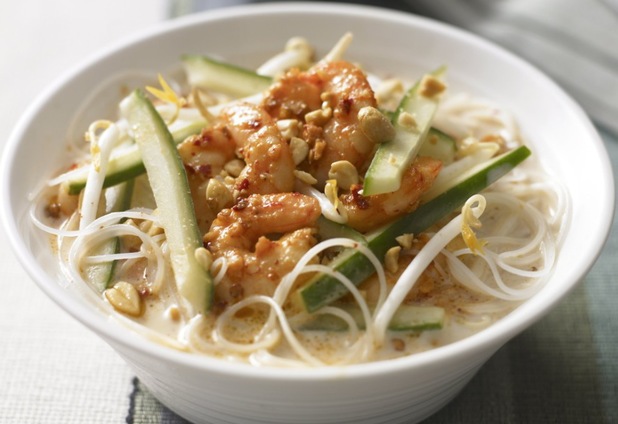 Ingredients
1 teaspoon Very Lazy Ginger
1 teaspoon garlic paste
1 teaspoon red chillies
1/2 lemongrass stalk
Splash of oil, for frying
20 raw prawns, shelled
400ml coconut milk
2 tablespoons fish sauce
Juice 1 lime
100g beansprouts, washed
Method
1
Roughly chop the ginger and mix with the garlic paste, chilies and lemongrass paste.
2
Heat a splash of oil in a large pan or wok and fry the prawns and spice paste for two minutes.
3
Add the coconut milk, fish sauce, lime juice and beansprouts. Gently simmer for five minutes.
4
Serve the laksa, spooned over rice or noodles and garnished with strips of cucumber, fresh coriander and chopped salted nuts.
Prep Time
5 minutes
Cook Time
10 minutes
Nutrition Information
Serves 4
More Thai recipes to try:
Ken Hom's Thai Green Curry
Tiger Prawn & Ginger Tawa Masala Curry
Thai Style Prawn & Peanut Noodles
Make Your Own Thai Chicken Skewers