Feeding a family can always be costly so we love this two-for-one recipe, which saves both time and money – amazing!
Follow these easy steps to get yourself two really delicious meals - cheesy roast vegetables and a warming roast vegetable soup. Each dish serves six people, so this is fab for a mid-week supper that the whole family can enjoy.
The recipe if courtesy of
Sian's Plan
, a website that helps you plan meals with ideas that are healthy, affordable and most importantly, tasty! The service offers an array of dishes that are easy to put together and will also save you cash.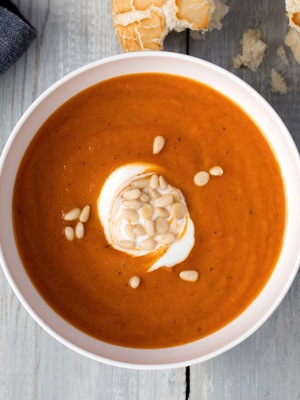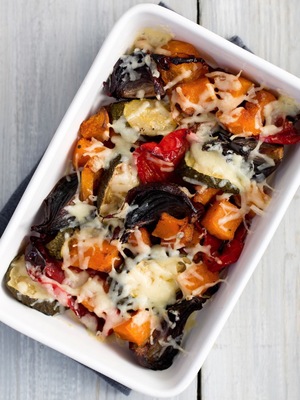 Ingredients
1 butternut squash (peeled and diced in large pieces)
2 red bell pepper (De-seeded and quartered)
2 yellow bell pepper (De-seeded and quartered)
4 red onion (Peeled and quartered)
2 courgettes (sliced thickly)
2 tablespoons olive oil
1 teaspoons sea salt
1 teaspoon cracked black pepper
1 bunch fresh rosemary (or 2 tblsp dried)
100g cheese (grated)
1.5 litre stock
1 tin chopped tomatoes
100mls natural yoghurt (optional)
25g pine nuts (dried) (optional)
4 crusty rolls (or similar)
Method
Meal 1 - Cheesy Roast Vegetables
1
Chop all the vegetables and pour the oil over. With a hand or spoon, ensure that the vegetables are fully coated with the oil. Cover with salt and pepper and the herbs.
2
Place in the hot oven for 40 minutes, stirring occasionally.
3
Once cooked, divide the vegetables in half, and remove the herbs. Top one half with cheese.
4
Cook for a further 10 minutes. The cheese should be melted and vegetables soft before serving.
5
Serve the cheesy roast vegetables immediately.
Meal 2 - Roast Vegetable Soup (15 minutes to reheat)
1
Place the remaining roast vegetables in a saucepan. Add the stock and chopped tomatoes. Bring to boil. Blitz whilst hot.
2
Taste and adjust seasoning as required. The soup should be of a single cream consistency. If not, add more stock to thin or boil rapidly for 4-5 minutes to thicken.
3
Cool and place in a fridge when cold. Reheat the next day, serve in warm bowls with yoghurt and pine nuts (optional) and crusty bread.
Prep Time
20 minutes
Cook Time
60 minutes
Nutrition Information
Each dish serves 6
Chef's tip:
When cooking Sunday lunch, double the amount of roasting vegetables and make a soup for next day.
More money saving recipes:
Vegetarian Stuffed Peppers
Macaroni Cheese With Leeks & Pesto
Creamy Mushroom & Bacon Pasta Bake
Oven Baked Potato Tortilla