We love fajitas, they always go down a storm with the family and they're really easy to put together.
This particular recipe uses tender beef strips and combines it with a yummy Mexican marinade, which even includes a drop of grapefruit juice - giving it a cooling but tangy finish.
Serve with the homemade sunny salsa for a successful Saturday night dinner.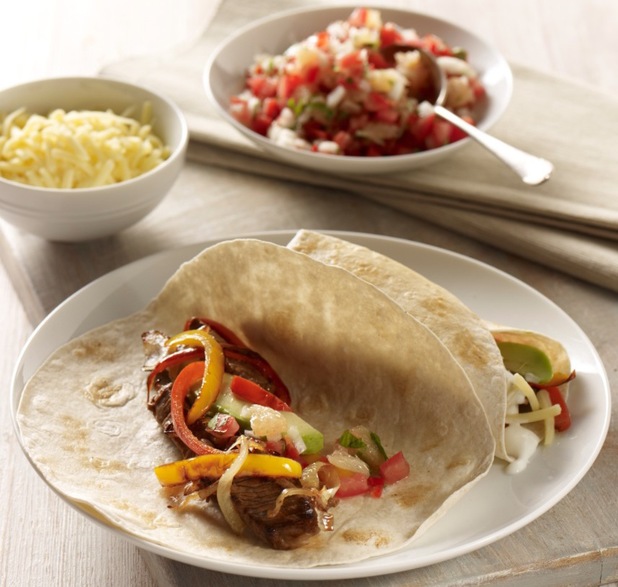 Ingredients
4 tablespoons squeezed Florida grapefruit juice
4 tablespoons fresh lime juice
Pinch of salt and pepper
1teaspoons all-purpose seasoning
2 tablespoons olive oil
1 red and 1 yellow pepper, seeds removed and cut into strips
1 large onion, peeled and chopped
450g lean beef, cut into strips
8 tortillas
1 avocado, peeled and stone removed
120ml reduced-fat sour cream
75g cheddar cheese, grated
For the sunny salsa:
3 tomatoes, chopped
1 onion, peeled and diced
2 mild chillies, seeds removed and finely diced
Fresh chopped coriander
1/2 Florida grapefruit, peeled and finely chopped
Pinch of salt
1teaspoon lime juice and water
Method
1
In a large food bag, combine the grapefruit and lime juices, salt and pepper, all-purpose seasoning and 1tablespoon of the olive oil. Add the beef, seal the bag, and squeeze the marinade together so that it covers the meat. Put in the fridge for a few hours to marinate.
2
Add all the salsa ingredients to a bowl, mix and set aside.
3
Heat the remaining olive oil in a skillet pan. Cook the peppers and onion until soft and brown, then add the beef strips and cook until browned. Place in a serving dish together.
4
Heat the tortillas according to the pack instructions.
5
Slice the avocado lengthways and place in a serving dish and put the sour cream grated cheese in dishes.
6
Place everything on the table so everyone can dig in.
Prep Time
10 minutes (plus marinating time)
Cook Time
8 minutes
Nutrition Information
Serves 4
Try these other Mexican recipes:
Mini Chicken & Apple Quesadillas
Spicy Chicken Enchilada Wraps
Tabbouleh Salad
Oven Baked Potato Tortilla