Check out these adorable chocolate and banana flower cupcakes, how cute do they look?!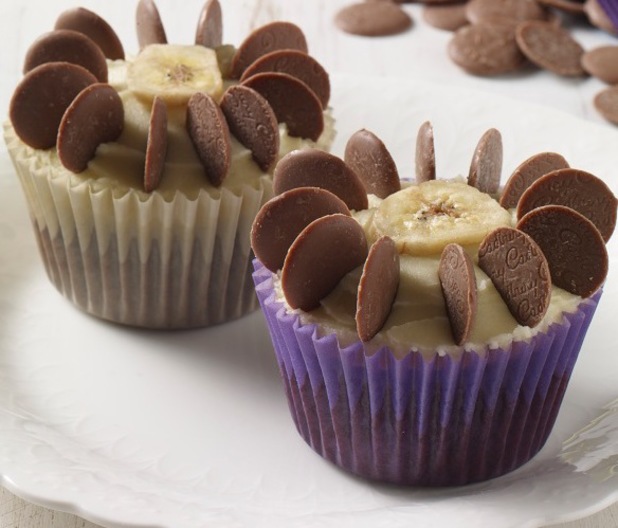 Former
Great British Bake Off
contestant Holly Bell created this recipe for Fairtrade Fortnight, which runs until March 9. It's a great excuse to do some baking and this fab recipe uses Fairtrade bananas, as well as plenty of chocolate.
These cakes are so simple to make and look (as well as taste) great. Children will love them.
Ingredients
For the cake:
100g butter, softened at room temperature
140g Fairtrade soft light brown sugar
2 large eggs, at room temperature, lightly beaten
30mls whole/semi skimmed milk
2 ripe Fairtrade bananas, well mashed
190g self-raising flour
25g cocoa
For the icing:
140g butter, softened at room temperature
280g icing sugar
1 tablespoon vanilla extract
1 tablespoon milk
To decorate:
12 banana chips
4 x 32g packs of chocolate buttons
Method
1
Line a 12 hole cake tin with cupcake cases and preheat the oven to gas 4/180C/fan 160C.
2
Cream together the butter and sugar with a wooden spoon or with a mixer for about 4 – 6 minutes until really light and creamy looking.
3
Add the eggs to the creamed mixture a dribble at a time, beating well after each addition. Add the milk and beat again.
4
Fold the mashed bananas into the mixture using a large metal spoon.
5
Then sieve the flour and cocoa over the top and fold in again with a metal spoon. When no traces of the flour or cocoa are visible, the mixture is ready.
6
Spoon into the cases equally and bake for 20 – 25 minutes in the centre of the oven until they're well risen, a little cracked at the surface and a toothpick comes out of the centre of each cupcake clean.
7
Cool on a wire rack, removed from the tin.
8
To make the icing, beat the butter with a wooden spoon or electric mixer for about 5 minutes until light and creamy, then add the icing sugar 1 tablespoon at a time, beating well after each addition.
9
Add the vanilla extract and milk, beat well for another 5 minutes to ensure the icing is really fluffy, then spoon onto the cupcakes once cooled. Use a knife to spread an even layer over the top of each cake.
10
Press a banana chip into the centre of each cupcake then push 12 chocolate buttons into the buttercream in a circle pattern, to look like petals.
11
These cupcakes keep in an airtight tin, at room temperature for 4 days.
Prep Time
15 minutes
Cook Time
20-25 minutes
Nutrition Information
Makes 12
More amazing cake recipes:
Mary Berry's Very Best Chocolate Fudge Cake recipe
Chocolate Bread & Butter Pudding
The Ultimate New York Raspberry Cheesecake
White Chocolate Chunk Caramel Cupcakes
Chocolate & Raspberry Tart