Strawberries and cream are the ultimate dream food duo, but have you ever thought about using them on pancakes?
Why not try this easy recipe, which also uses maple syrup and mint, to make this year's Shrove Tuesday extra-memorable?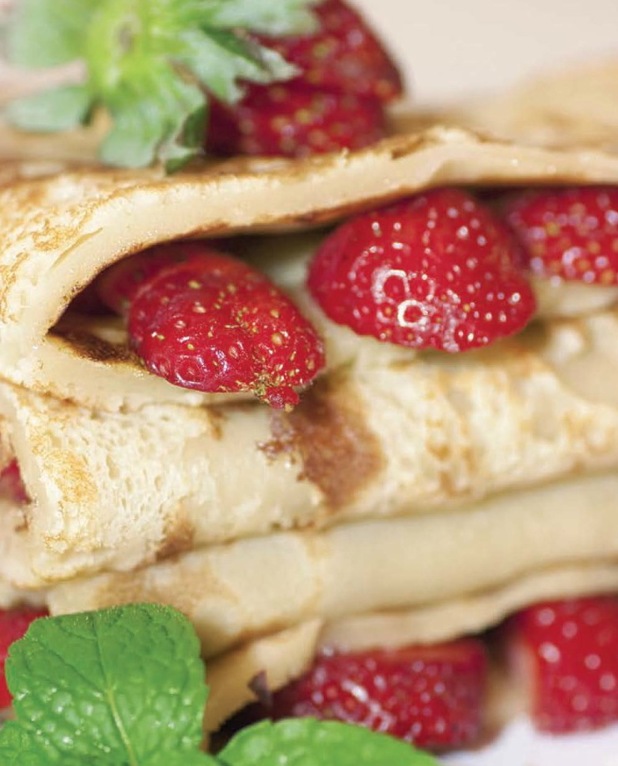 Ingredients
4 thin sweet pancakes about 18 cm / 7 inches across
For the filling:
250g / 9oz small strawberries
125ml / ¼ pint / generous 2/3 cup double (heavy) cream
2 tablespoons maple syrup
4 mint leaves
Method
1
Preheat the oven to 200°C, Fan 185°C, 400°F, Gas 6.
2
Quarter the strawberries (if using frozen, drain off any excess liquid). Pour the cream into a bowl and lightly whisk.
3
Spread a little cream over each pancake. Scatter over the strawberry pieces and drizzle over some maple syrup. Put a mint leaf in the middle of each pancake.
4
Roll the pancakes over the filling and lift into an ovenproof dish, arranging them in a single layer.
5
Cover with foil and put into the hot oven. Cook for 15 minutes, remove the foil and cook for a further 5 minutes until cooked through.
Prep Time
20 minutes
Cook Time
20 minutes
Nutrition Information
Serves 4
More tasty pancake recipes:
New York Style Pancake Stack
Bubble & Squeak Pancakes
Pancakes With Crispy Bacon
Bannoffee Pancakes
For more pancake recipes head to Sainsbury's E Books and download Waffles, Crepes and Pancakes by Norma Miller (published by Constable & Robinson)