We're prepping for Pancake Day and getting inspiration for some different pancake varieties, like this delicious prawn recipe.
Instead of the usual pancake recipe, it uses buckwheat crêpes, a classic French recipe that's staple in Normandy and Brittany and ideal for sweet or savoury fillings. Juicy prawns and a splash of lemon juice make this the perfect dish for fish fans.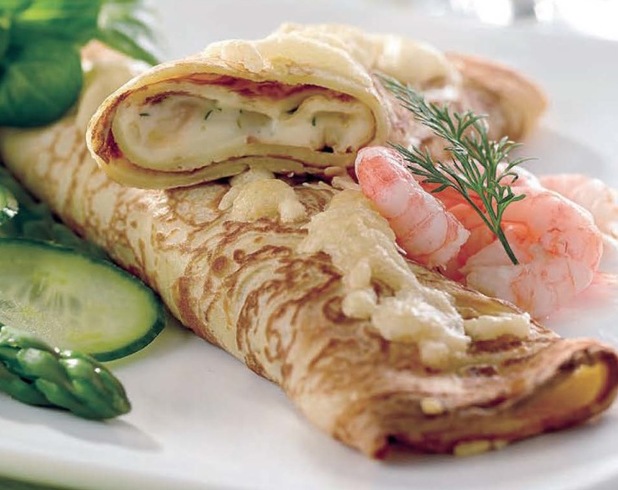 Ingredients
200g / 7oz cooked, peeled prawns (shrimps), thawed if frozen
115g / 4oz / 1 cup buckwheat flour
Freshly milled salt and pepper
3 medium eggs
300ml / ½ pint / 1¼ cups buttermilk or milk
1 teaspoon lemon juice
2 tablespoons melted butter
Oil or melted butter
Method
1
Cut each prawn (shrimp) into three or four. Drain on kitchen paper (paper towels).
2
Sift the flour into a bowl and add a little salt and pepper. Make a well in the centre and break in the eggs. With a whisk, gently stir the flour into the eggs, gradually adding enough of the buttermilk or milk to make a smooth batter the consistency of single (light) cream.
3
Stir in the lemon juice and melted butter. If time allows, cover and leave to stand for about 15 minutes.
4
Lightly brush the crêpe maker or a non-stick frying pan with a little oil or melted butter. Preheat the crêpe maker to 'Medium', or put the non-stick frying pan over a medium heat.
5
When hot, pour a small ladleful of batter and spread or swirl to give a thin layer the size of a small teacup. As the crêpe cooks put a few pieces of prawn (shrimp) onto the crêpe and gently push into the batter. Cook gently for about 30–45 seconds on one side until the underside is golden brown
6
Using a flat spatula or palette knife, carefully flip the crêpe over and cook the second side for about 30 seconds. Lift out and keep warm.
7
Repeat this method with the remaining batter and serve warm.
Prep Time
15 minutes
Cook Time
5 minutes
Nutrition Information
Serves 4
More delish pancake recipes to try:
Low Fat Pancake Recipe
Three Amazing Pancake Recipes
Pancakes With Caramelised Pear & Chocolate
Breakfast Pancakes With Crispy Bacon & Syrup
For more pancake recipes head to Sainsbury's E Books and download Waffles, Crepes and Pancakes by Norma Miller (published by Constable & Robinson)