Looking for an excuse to tuck into a deliciously comforting pie? Well, it's officially British Pie Week and this fabulous recipe from Food Network UK chef Andy Bates - better known as TV's Pie Man - has got to be one of the easiest ever.
It's really quick to make and turkey and leeks make for a scrumptious duo. Combined with puff pastry and double cream, this is ideal for a cosy weekend supper. And if you haven't got any turkey, left over chicken will do just as well!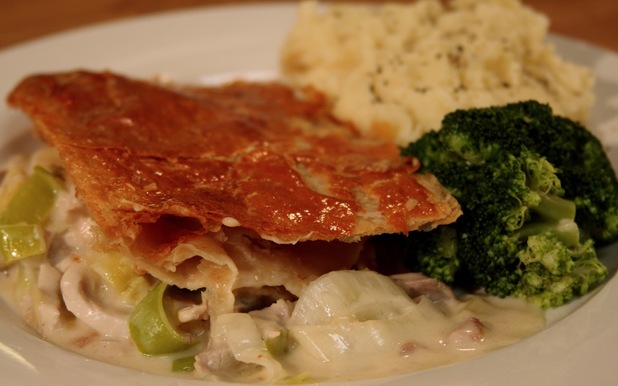 Ingredients
350g left-over turkey
35g sweated down leeks
75g butter
75g flour
1 litre chicken stock
300ml double cream
Chopped thyme
Pre-rolled puff pastry
Method
1
In a saucepan melt the butter on a medium heat and add the flour, stirring constantly until you have a roux. Cook gently for 3 mins then slowly add the stock, 1 ladle at a time, stirring continuously until you have a lump free sauce.
2
On a low heat, cook the sauce for 10-15 mins to cook out the flour taste. Add the chopped thyme and double cream and season to taste. Allow to cool.
3
In an oven proof rectangular dish add the turkey and leeks, pour over the sauce then roll your pastry over the top, making sure it overlaps the edges. Rest in fridge for 10 mins.
4
Once chilled, brush with egg yolk and cook in a pre heated oven at 190°C for 35-40 mins.
Prep Time
15 minutes
Cook Time
1 hour
Nutrition Information
Serves 4
More Andy Bates' recipes can be found at
www.foodnetwork.co.uk
Andy Bates' Brazilian Street Feasts is on Food Network UK, weeknights at 8pmMore fab pie recipes:
Andy Bates Brazilian Beef Brisket & Coffee Pie
Butternut Squash & Stilton Pie
Mini Chicken & Pickled Onion Pies
Speedy Chicken & Vegetable Pot Pies
Sausage Pasties