Mmm....here at Reveal Towers we love a good portion of nachos. They're great for a cheeky afternoon snack or served with fajitas for your very own Mexican feast!
This particular recipe is easy-peasy to follow and even shows you how to make your own fiery salsa…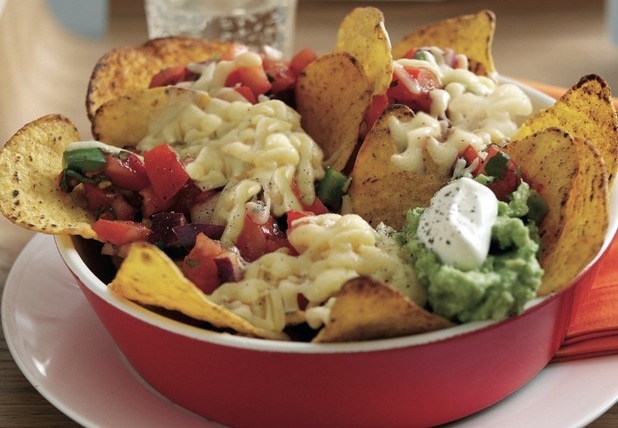 Ingredients
1 x 400g pack tortilla chips
3 large tomatoes, finely chopped
1 small red onion, finely chopped
1 green or yellow pepper, deseeded and finely chopped
1 red chilli, deseeded and finely chopped
3 tablespoons tomato ketchup
2 tablespoons chopped fresh coriander
6oz (150g) Pilgrims Choice Extra Mature Cheddar, grated
1 large ripe avocado
8 tablespoons fresh soured cream
Salt and freshly ground black pepper
Method
1
Preheat the oven to 200°C / fan oven 180°C / Gas Mark 6.
2
Arrange the tortilla chips in heatproof serving bowls, or on a baking sheet.
3
Make the salsa by mixing together the tomatoes, red onion, pepper, chilli, tomato ketchup and coriander, checking the flavour before you add too much chilli. Season with a little salt and pepper.
4
Dollop spoonfuls of the salsa over the tortilla chips, and put any remaining salsa into a serving bowl.
5
Sprinkle the cheese over the tortilla chips and bake on the top shelf of the oven for 5 minutes, until the cheese has melted.
6
Meanwhile, halve the avocado and remove the stone, then scoop out the flesh into a serving bowl and mash it with a fork.
7
Season, then serve with the nachos, soured cream and remaining salsa.
Prep Time
20 minutes
Cook Time
5 minutes
Nutrition Information
Serves 4
Like spicy food? Check out our gallery below...