Macaroni cheese is a classic recipe and the perfect midweek dinner to serve. There are many variations, but we love this super-fast recipe which just takes 15 minutes to whip up.
Comforting, filling and economical, it's no wonder this is a family favourite.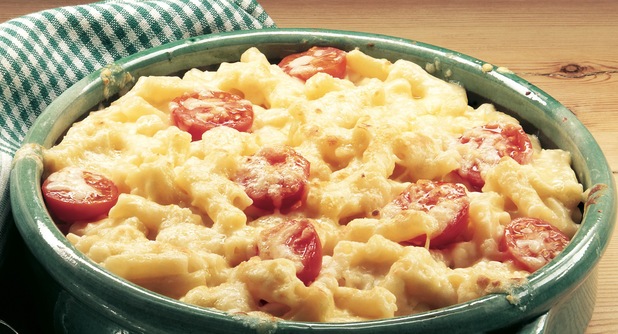 Ingredients
6oz (185g) macaroni
6oz (185g) Pilgrims Choice Cheddar (4oz/125g) for sauce and (2oz/60g) for topping
4oz (125g) self raising flour
2oz (60g) butter
1 pint (475ml) of milk
1 tablespoon (15ml) double cream
1 tablespoon (5ml) english mustard
Salt & pepper to taste
Method
1
Cook the macaroni in boiling water for 10 minutes and then drain well.
2
Melt the butter in a large saucepan. Add the flour with a little milk and beat with a whisk, slowly adding all of the remaining milk. Make sure the heat is low to prevent the mixture from going lumpy.
3
Remove from the heat and keep whisking until smooth. Return mixture to a higher heat and bring to the boil.
4
Once the sauce has boiled, reduce heat and add cheese, mustard, cream and salt and pepper to taste.
5
Gently stir the mixture until all the ingredients are melted into the sauce and remove from the heat.
6
Now add the drained macaroni to the sauce and gently stir. When all the macaroni is covered in the sauce, pour the mixture into an ovenproof dish.
7
Sprinkle over the remaining grated cheese and cook in the oven (gas mark 6/200c/400F) for 20 minutes until golden brown.
8
Serve with warm crusty bread or steamed vegetables.
Prep Time
15 minutes
Cook Time
25 minutes
Nutrition Information
Serves 2
More tasty pasta recipes:
Creamy Mushroom & Bacon Pasta
Spicy Pork Meatballs
Macaroni Cheese with Leeks, Cheddar, Parmesan & Pesto
Stilton, Asparagus & Cherry Tomato Tagliatelle