We predict you'll fall in love with these salted caramel chocolate desserts from Great British Bake Off winner Jo Wheatley. They're perfect for Valentine's Day or any romantic occasion, especially garnished with these home made white chocolate hearts.
Nothing says 'I love you' more than a bit of home cooking and these delicious salted caramel chocolate pots are so easy you don't have to be an expert – or even well-practised – cook.
Ingredients
SALTED CARAMEL
100g soft light brown sugar
75ml double cream
15g unsalted butter
½tsp sea salt
CHOCOLATE
150ml double cream
75g good-quality dark
chocolate, finely chopped
75g milk chocolate,
finely chopped
1 large egg yolk
You will also need two deep glass ramekins or glasses – or pretty mini teacups like we've used in the photograph.
Method
1
Start by making the salted caramel by gently heating the sugar, cream, butter and salt in a pan until the sugar and butter has dissolved.
2
Bring to the boil, reduce the heat to a simmer and reduce for 2 mins until thickened, then pour into a shallow dish and chill for 2 hours.
3
Meanwhile, tip the chopped chocolate into a bowl, heat the cream until just boiling and pour over the chocolate. Stir until the chocolate has completely melted.
4
Add the egg yolk and beat until smooth and glossy. Pour half the mixture into the ramekins. Add a generous teaspoon of the salted caramel to each of the ramekins and top with the remaining chocolate mixture. Cover with cling film and chill in the fridge for 2-3 hours until set. Spare caramel can be kept in the fridge for three or four days and can be served warm with ice cream.
5
Pretty white chocolate hearts really finish this off. Carefully melt 50g of white chocolate in a sandwich bag in the microwave on a low heat in 10-second bursts.
6
Snip the end of the sandwich bag and use it like a piping bag to create heart shapes on baking parchment. Chill until set.
Nutrition Information
REMEMBER – This recipe contains raw egg. Be careful who you give it to!
Serves 2
Here at Reveal, we're huge fans of Essex mum-of-three
Jo Wheatley,
who won the
Bake Off
in 2011.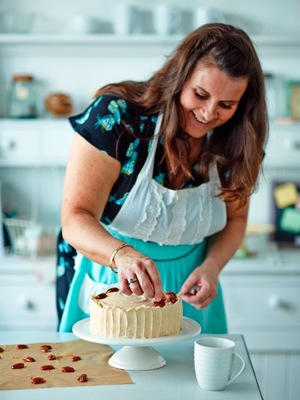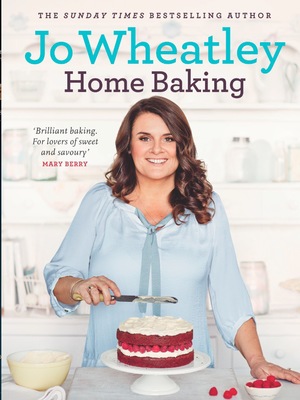 Since then she's published two books,
Home Baking
and
A Passion For Baking.
The recipe for these puds come from
Home Baking
and Jo writes: "Some candles, a bottle of fizz, a nice dinner, followed by these creamy, silky chocolate pots . . . mmmm!
"I love that you can make these treats in the afternoon, then pop them in the fridge until you're ready to serve. If you don't like salted caramel, they will work just as well without the salt."
More easy to make dessert recipes
James Martin's ultimate NYC raspberry cheesecake
Seductive Ginger & Chocolate fondant puddings
White Chocolate Mousse with Strawberry & Black Pepper sauce
Iced berries with hot White Chocolate sauce - just 195 cals for dessert
PLUS check out our gallery below