British Pie Week is coming up - it runs from March 3 to March 9, which means it's a great excuse to tuck into one of our favourite treats.

Pie is a great British tradition and we love this veggie version, which combines butternut squash, sage and wonderfully gooey Stilton cheese together
It makes a change from the usual pie recipes and we guarantee that even meat eaters will enjoy this one.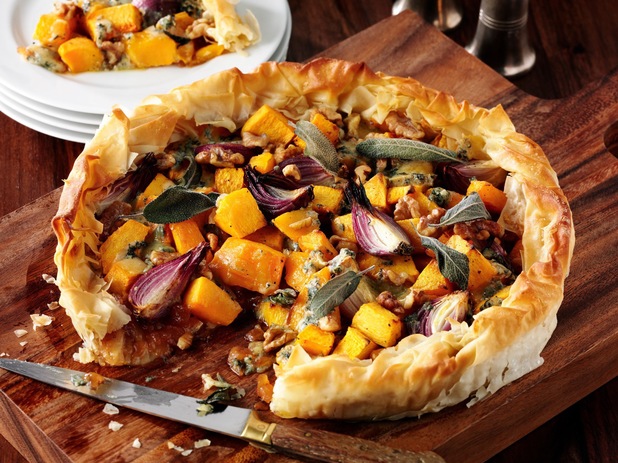 Ingredients
750g cubed butternut squash
2 small red onions, each quartered
1 tablespoon olive oil
50g butter, melted
6 large sheets filo pastry
220g jar The English Provender Co. Apple, Pear and Fig Chutney
125g Stilton or blue cheese, crumbled
50g walnut pieces
6 sage leaves
Method
1
Preheat the oven to 190º C, Gas Mark 5. Place the butternut squash and onions in a roasting tin, drizzle with the oil and season with freshly ground black pepper. Cook for 15-20 minutes until just tender.
2
Meanwhile, brush a 28cm round loose - bottomed flan tin with some of the butter. Lay a few sheets of filo across it, slightly overlapping.
3
Brush the overhanging filo with more butter. Continue layering the filo, buttering as you go and slightly overlapping the sides of the tin. Place a baking sheet in the oven to preheat.
4
Spoon the apple, pear and fig chutney over the bottom of the pastry. Top with the butternut squash and onions. Scatter over the Stilton and walnuts and sage leaves and fold in the overhanging edges.
5
Place the pie on the preheated baking sheet and bake for 20- 25 minutes until golden. Serve in slices, with a crisp green salad.
Prep Time
15 minutes
Cook Time
45 minutes
Nutrition Information
Serves 6
More pie recipes to try:
Lower Calorie Cottage Pie
Sausage Pasties
Speedy Chicken & Vegetable Pies
Chestnut & Vegetable Pie