Pork and apple is a classic British combination and we love how TV chef Phil Vickery has given them a twist with this mouth-watering recipe for pork belly and Bramley apples roasted in cider.
Why not give it a try this weekend? It's perfect comfort good for when the weather is grey and cold. And it's bound to impress, too.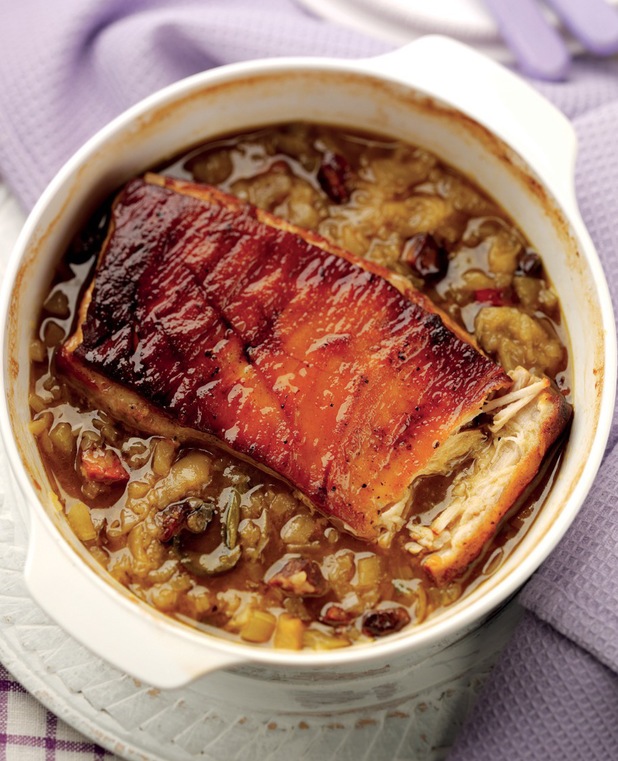 Ingredients
750g belly pork in 1 piece, rind removed
2 tablespoons of oil, any will do
1 small glass of strong pork or chicken stock
1 small glass of dry cider
2 large onions, VERY finely chopped
6 cloves garlic, again chopped
A few sage leaves
4 large sticks celery, finely chopped
3 large Bramley apples (550g), peeled, cored and finely chopped
100g chorizo or any spicy sausage, chopped roughly, optional
Method
strong>1 Set the oven to 180°C/gas mark 4. Season the belly pork well with salt and pepper.
2
Heat the oil in a deep pan and add the chopped chorizo if using and melt slightly.
3
Next add the belly pork and brown well on both sides. Remove carefully from the pan when done, but leave in the chorizo.
4
Add all the veg, Bramley apples, sage and top with the pork, then add the cider and stock.
5
Bring to a boil, and place a lid on the top.
6
Cook in the oven for 1 hour 30-45 minutes or until soft and well cooked, do not overcook!
7
Gently mash the gravy and juices from the pan and thicken slightly. Serve with the pork
Prep Time
30 minutes
Cook Time
2 hours
Nutrition Information
Serves 4
For more recipes using bramley apples, head
here
.
Try these other yummy recipes:
Chicken & Vegetable Pot Pies
The Ultimate Roast Potatoes
Sticky Vietnamese Pork
Braised Shank Lamb