Apples are a great addition to any dessert, so we challenge you to resist this dreamy cheesecake recipe from TV chef Phil Vickery.
This great dish shows you how to put together a delicious apple flavoured cheesecake that's topped with a seriously tasty Bramley apple and lime syrup blend. Serve after your Sunday roast for a proper pudding!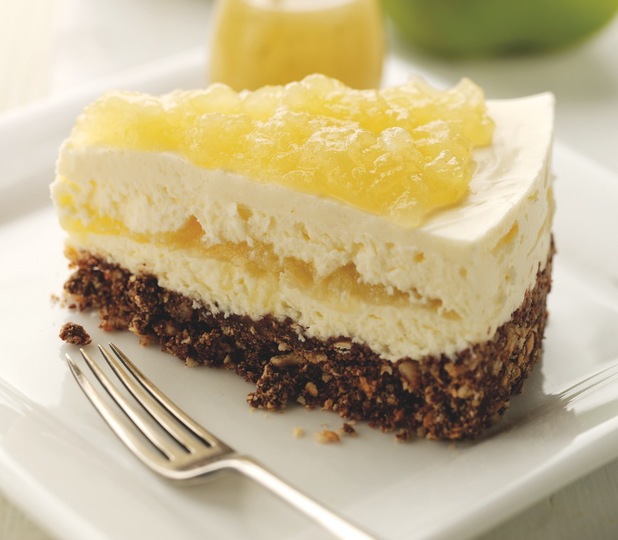 Ingredients
2-3 large Bramley apples (500g)
100g caster or granulated sugar
100ml water
200g Rich Tea biscuits, crushed
50g melted chocolate, any will do
1 x 397g can of condensed milk
2 x 250g tubs of mascarpone cheese
Juice of 3 large lemons (about 100ml)
For the Bramley apple and lime syrup topping:
225g granulated or caster sugar
250ml cold water
Approximately 1 medium Bramley apple (150g)
juice and finely grated zest of 3 large limes
Method
1
Peel and core the apples, place in a pan, add the sugar and water and cook until you have a thick pulp before cooling – the thicker the better.
2
Mix the crushed biscuits with the melted chocolate and lightly press the mixture into the tin to make an even layer. Chill for 20 minutes.
3
Use an electric whisk to beat the condesnsed milk with the mascarpone cbeese until the mixture is smooth. Add the lemon juice and combine thoroughly.
4
Spread half the cream mixture onto the biscuit base. Then spoon over half of the apple stew but leave a 3cm gap at the edge.
5
Top with the remaining cream mixture, covering the edges to seal in the apple stew, then chill for 4 hours, better really 8 hours if you can.
6
Once chilled remove from the tin place on a plate and spoon the rest of the stew into the centre of the cheesecake.
7
Carefully spread out again to 3cm of the edge, dust heavily with icing sugar and serve in wedges with the syrup and thick set cream.
To make the Bramley apple and lime syrup topping:
1
Place the sugar, water and finely chopped apple into a saucepan and gently cook until you have a soft thin puree.
2
Blitz in a liquidiser for a good 5 minutes until you have a lovely velvety smooth puree/sauce.
3
Pass through a fine sieve and cool.
4
Once cooled add the lime juice and zest and stir in well.
Prep Time
25 minutes
Cook Time
4 hours, preferably overnight
Nutrition Information
Serves 8-10
For more recipes using bramley apples, head
here
.
Try out these other sweet treat recipes:
Gluten Free Chocolate Pudding
Chocolate & Raspberry Tart
Mini Rainbow Jellies
Raspberry Cheesecake Brownies