Check out this delicious chicken traybake recipe from Great British Bake Off queen Mary Berry which uses yummy Itaiian Taleggio cheese, pesto and roasted tomatoes.
It's from her exciting new book,
Cook Up A Feast.
Mary says: "This is truly scrumptious. It's also quick to make.
"Homemade pesto is best (recipe below) but you can use good-quality pesto from a jar if you're short of time. Serve it with potatoes and salad."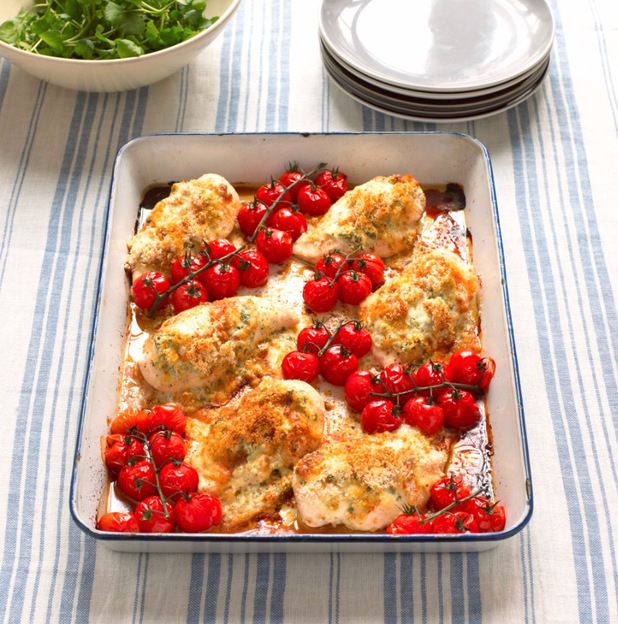 Ingredients
6 skinless boneless chicken breasts
Salt and freshly ground black pepper
175g Taleggio cheese, cut into small cubes
3tbsp pesto
2tbsp freshly chopped basil
3tbsp full-fat cream cheese
50g fresh breadcrumbs
A pinch of paprika
400g cherry tomatoes on the vine
2tbsp olive oil
1tbsp balsamic vinegar
Method
1
Preheat the oven to 220ºC/200ºC fan/450ºF/gas 7. Arrange the chicken breasts in a single layer in an ovenproof dish or roasting tin and season with salt and freshly ground black pepper.
2
Mix the Taleggio, pesto, basil and cream cheese in a bowl and season with salt and freshly ground black pepper. Spoon on to the chicken breasts, spreading the mixture out to cover them completely. Sprinkle with the breadcrumbs and dust with a little paprika.
3
Bake for 20 mins, then arrange the tomatoes around the chicken. Pour the oil and vinegar over them, and return to the oven for a further 10 mins or until the chicken is just cooked through. Be careful not to overcook it.
4
To serve, arrange a chicken breast on each plate with a few tomatoes, then spoon over some of the juices from the dish.
Nutrition Information
Serves 6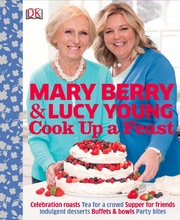 Mary's tip:
If you're cooking in advance, the chicken can be prepared up to the end of the second step up to 12 hours ahead. Freeze at the end of the second step for up to two months.
How to make your own home-made pesto:
Put a large bunch of basil, two crushed garlic cloves, 1tbsp pine nuts and 2tbsp freshly grated Parmesan cheese in a blender. With the motor running, slowly pour in 100ml extra virgin olive oil. Season to taste.
She's the queen mum of kitchens and in her new book, Great British Bake Off star Mary Berry demonstrates there is more to her than being the country's authority on delicious cakes.
In Cook Up A Feast, Mary teams up with her colleague of 24 years, cookery writer Lucy Young, to guide you through the potential perils of entertaining family and friends.
With decades of culinary experience between then, Mary and Lucy offer advice on how to choose the best dishes for the occasion, with step-by-step instructions.
More recipes from Mary Berry
Very Best Chocolate Fudge Cake
Easy & Delicious Chocolate Brownies
Easy Roast Turkey
Fresh Salmon & Dill Terrines