Fancy adding a little bit of Italian pizzaz to your tea table this year? Well check out these delicious and on-so-easy puff pastry tarts with Tropea Onion Jam. This recipe has got to be one of the easiest ever - with just three ingredients!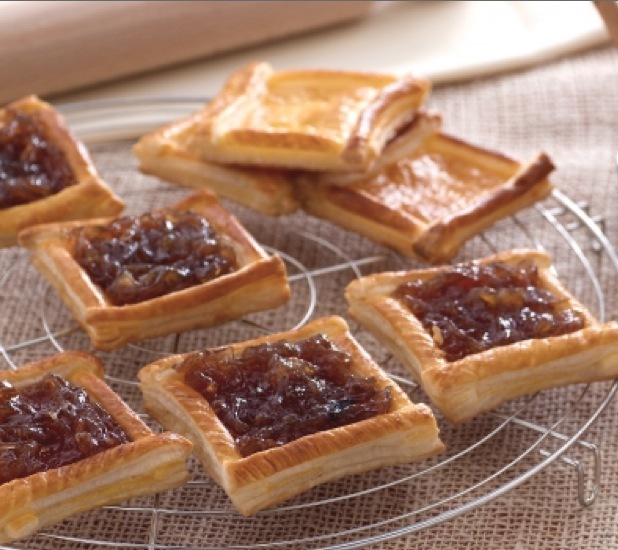 Ingredients
1 320g pack of ready-made puff pastry
1 egg
1 220g jar of Tropea Onion Jam (Or alternatively try any Onion Jam or Chutney)
Method
1 Roll out the pastry and cut into 8cm squares. Brush them with the egg yolk.
2 Using the leftover pastry, cut out strips measuring 8cm long x 1cm wide and use them to make a border around the pastry square.
3 Brush the borders with egg and then decorate the edges by making little stripes with the back of a knife.
4 Prick the bottom of the pastry squares with a fork and bake in a preheated oven at 180 degrees for 15 minutes until golden brown.
5 Let the tarts cool for a while before filling each one with 30g of the onion jam. Serve as an antipasto (starter).
Nutrition Information
Makes 7-8 tarts
This recipe comes courtesy of our friends at Italian gourmet food website
Vorrei
More easybakes on reveal.co.uk...
Welsh Lamb, Basil & Goat's Cheese Tart
Red Onion Chutney & Goat's Cheese Sausage Rolls
Mini Sausage & Apple Bakewells
Lancashire Red Onion & Pepper Tarts