We all know breakfast is the most important meal of the day but sometimes it's tough to think of exciting recipes first thing in the morning.
Which is why we can't wait to make this bruschetta dish from TV chef Dean Edwards. Poached egg, crispy bacon and juicy cherry tomatoes are all topped on to a fresh chunk of bread. This brekkie contains a lot of protein so it will keep you fuller for longer
and
it's totally delish…a perfect weekend treat, we reckon!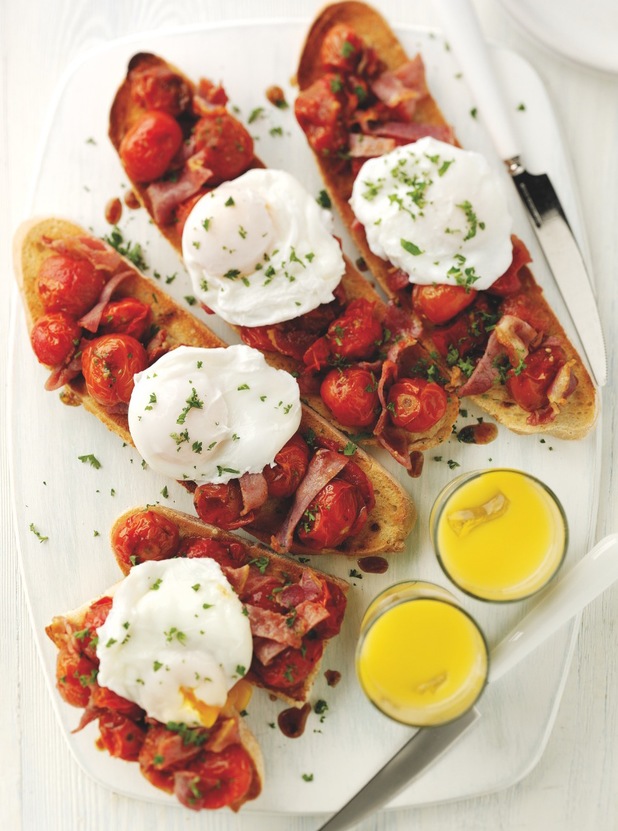 Ingredients
750g cherry tomatoes
3 tablespoons cold pressed rapeseed oil
1 tablespoon balsamic vinegar
1 oval rustic loaf, cut into 4 long slices lengthways
300g unsmoked bacon
4 medium eggs, poached
2 tablespoons chopped parsley
Method
1
Preheat the oven to 200c, gas mark 6. Place the tomatoes in a large baking tray and toss in 1 tablespoon of oil and balsamic vinegar. Season and bake for 20 minutes until soft.
2
Meanwhile, brush the bread with the remaining oil, place on a baking tray and add to the oven for the last 10-12 minutes of cooking.
3
Place the bacon under a preheated grill for 7-8 minutes then cut into thick slices. Mix with the tomatoes and use to top the toasted bread.
4
Serve topped with a poached egg and sprinkle with parsley
Prep Time
10 minutes
Cook Time
20 minutes
Nutrition Information
Serves 4
For more recipes from Farmhouse Breakfast Week, head here.
Other delicious breakfast recipes to try:
Banana & Pecan Yoghurt
Boiled Egg With Cheese Soldiers
Avocado & Cheese On Toast
Posh Bacon & Eggs