If you fancy a sweet treat but you don't want to be too sinful, we seriously recommend you trying out this brilliantly easy chocolate, nut and cherry fridge cake recipe. It's not only gluten-free, it is suitable for vegans, too.
It combines (vegan) chocolate, nuts and cherries for a crunchy and irresistible snack that will satisfy any sugar cravings, but it's much healthier than your usual chocolate cake. Even better, this recipe requires no baking, just whip up and leave in the fridge to set - easy!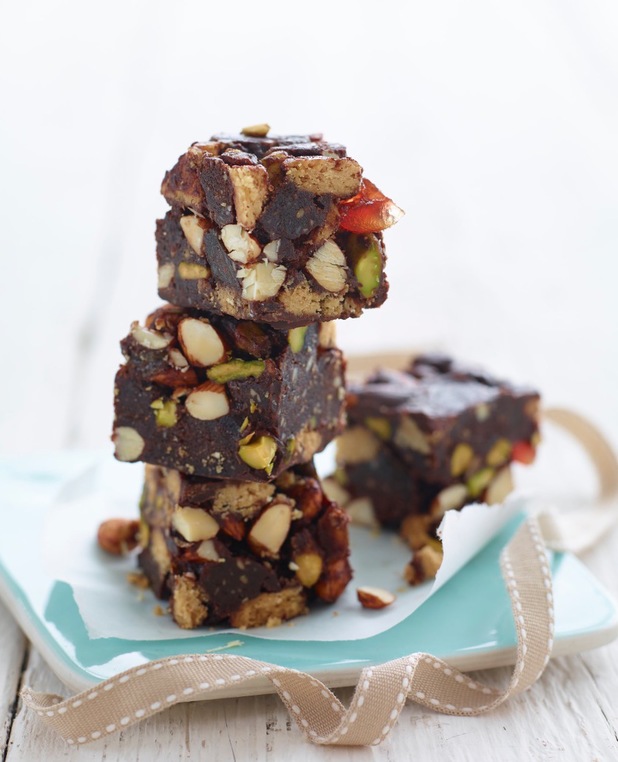 Ingredients
2 x 130g bags Nakd Cocoa Delight Fruit & Nut Bits
75g dairy free soya spread
75g vegan dark chocolate, broken into pieces
1 tablespoon fruit syrup
175g gluten, wheat and dairy free digestive biscuits, roughly broken into small pieces
100g whole shelled pistachios
100g whole almonds, roughly chopped
75g glacé cherries, halved
2 x 25g packs cherry infused raisins
Method
1
Line the base of an 18cm square cake tin with baking paper.
2
Place the cocoa fruit and nut bits, soya spread, chocolate and syrup in a medium pan, heat gently and stir occasionally until the butter and chocolate have melted and the cocoa fruit and nut bits have softened slightly.
3
Tip the mixture into the prepared tin and even out the mixture with the back of a spoon, pressing the mixture together.
4
Chill for at least 2 hours or until firm.
5
Turn out onto a board and remove the baking paper. Serve cut into squares.
Prep Time
15 minutes, plus 2 hours setting time
Nutrition Information
Makes approximately 24 squares
Try the other healthy recipes:
Lighter Potato Dauphinoise
Low Fat Blueberry & Banana Muffins
Fresh Crudites & Homemade Dips
Mini Chicken Pizza Naans
The best chocolate cake and cupcake recipes in pictures:
Copyright: Lindt