This recipe is one especially for those of you on a gluten-free diet, although to be honest it's so delicious everyone is going to love it.
Treacle tart is a Classic British Pudding and this fab recipe means that even if you are gluten intolerant, you don't have to miss out. This easy method uses gluten free short crust pastry but tastes just as good, if not better, than a gluten version…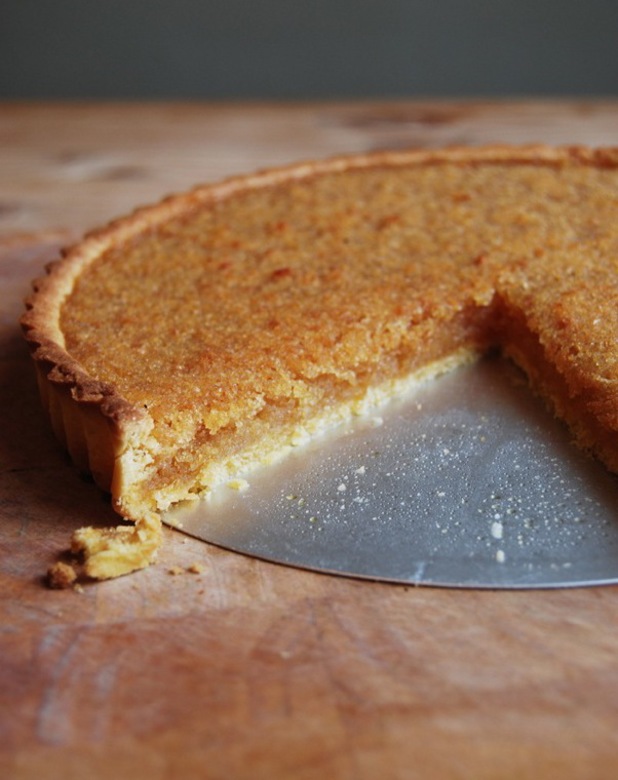 Ingredients
85g/3oz brown rice flour
85g/3oz cornmeal
1/2 teaspoon of salt
85g/3oz cold butter, diced
55g/2oz caster sugar
1 beaten egg mixed with 1 tablespoon of water
For the filling:
225g/8oz of warmed golden syrup
110g/4oz fresh white Genius Gluten-Free Bread, processed to fine breadcrumbs
Finely grated zest and juice of 1 lemon
Method
1
Preheat the oven to 180C/375F/gas mark 5. To make the pastry, first sieve the flours and salt into a large mixing bowl.
2
Rub the butter into the flour with your fingertips until the mixture resembles fine breadcrumbs, and then stir in the sugar.
3
Bring the dough together into a ball with your fingers and knead lightly until smooth.
4
Place the dough between two sheets of cling film and roll to the thickness of a £1. The cling film helps to hold the pastry together.
5
Peel off the top sheet of cling film and transfer the rolled pastry to the run with the remaining sheet of cling film upper most.
6
Gently press the pastry into the tin so that the pastry hugs the base, corners and sides then carefully peel away the second sheet of cling film.
7
Patch up any cracks or holes with trimmings of pastry. Don't worry if the shell looks patchy as the pastry will even out in the oven.
8
Remove any excess pastry hanging over the rim of the tart tin by rolling over the top of the tin with the rolling pin. Lightly prick the base of the pastry case with a fork, taking care not to prick all the way through to the tin or the treacle filling will escape.
9
Cover the tart shell with cling film and place in the fridge to firm up for 30 minutes before baking.
10
Meanwhile make the treacle filling: gently warm the syrup with the lemon zest and juice until runny, stir in the breadcrumbs and pour into the prepared pastry case.
11
Bake on the middle shelf of the preheated oven for about 20 minutes or until the pastry is crisp and biscuit brown and the filling is golden and almost set. Do not allow the filling to become too firm or it will harden as it cools.
12
Serve warm or cold, cut into generous slices.
Prep Time
30 minutes
Cook Time
30 minutes
Nutrition Information
Serves 4-6
For more gluten free recipes, head here.More delicious recipes to try:
Gluten Free Chocolate Pudding
Vegan Jaffa Cakes
Spicy Butternut Squash Soup
Vegetarian Stuffed Peppers