All the taste, yet half the calories. No wonder we love this low fat version of French classic potato dauphinoise, which comes out at just 232 calories per serving.
And that's why we're fans of Make It Lighter, the new recipe book from award-winning food writer Angela Nilsen, which is where this fabulous low calorie version of this classic (and delicious) French potato dish comes from.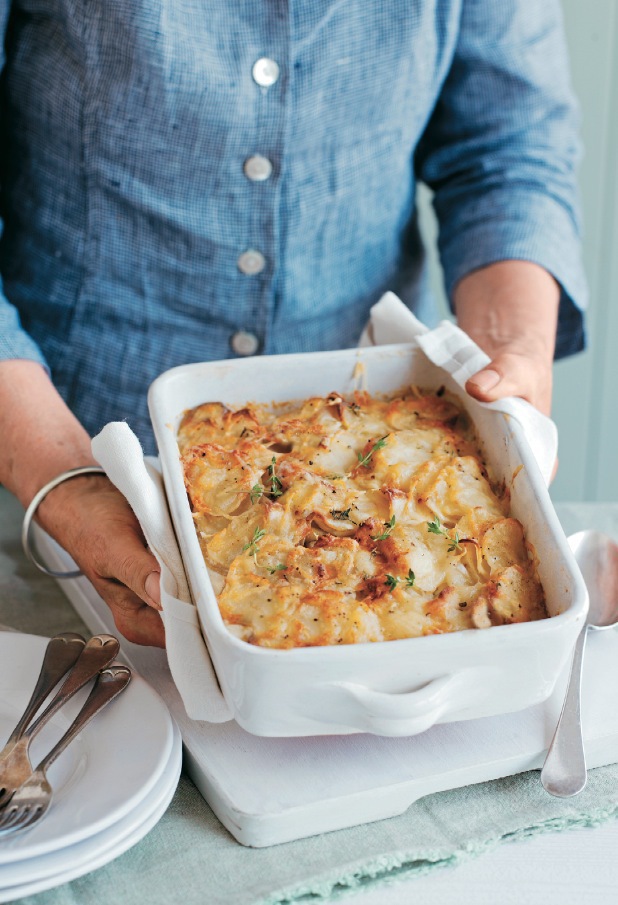 There's guilt-free versions of many favourites in the book - from chicken korma to bread and butter pudding, even the blueberry trifle on the cover.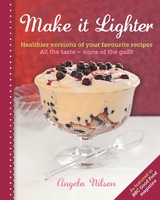 Angela says: 'Dieting can so easily equate with deprivation and that is not what the recipes within these pages are about.
'Instead, the intention is to offer simple, achievable and practical ideas that will help you eat in a healthy, balanced way, without feeling cheated.'
Angela's dauphinoise cuts the calorie, fat and salt count by half of the original (from 424 to 232 calories) just with clever ingredient swaps.
'Potato dauphinoise relies on butter, milk and cream for its extravagant richness,' Angela explains.
'What makes this dish hard to adapt is that the recipe also relies on the potatoes cooking in, and marrying with, these ingredients to create a creamy sauce, but I've made this lighter version just as special.'
Ingredients
1tsp olive oil
150ml semi-skimmed milk
1 plump garlic clove, peeled
and halved
4 sprigs of thyme, plus
extra small sprigs for sprinkling
1 bay leaf
1 shallot, roughly chopped
Good pinch of freshly grated nutmeg
1kg waxy potatoes,
such as Desiree
140g full-fat crème fraîche
75ml vegetable stock
1tsp thyme leaves
25g Gruyére cheese or vegetarian alternative
Salt and freshly ground black pepper
Method
1
Preheat the oven to 160°C/140°C fan/320°F/gas 3. Brush the oil over the bottom and sides of a 10in ovenproof dish.
2
Put the milk, garlic, thyme, bay leaf and shallot into a saucepan. Bring just to the boil, then remove from the heat and add the nutmeg and a little pepper. Set aside to infuse while you prepare the potatoes.
3
Peel, then slice the potatoes very thinly. Pat them dry. Layer half of the slices in the dish, overlapping slightly, then season with pepper and a little salt.
4
Strain the infused milk into a jug. Put the crème fraîche into a bowl, then gradually pour in the milk, whisking until smooth. Add the stock and thyme leaves. Return this liquid to the jug, then pour half of it over the potatoes in the dish.
5
Layer the rest of the potatoes in the dish, then add the remaining liquid, the cheese and a grind of black pepper.
6
Sit the dish on a baking sheet and bake for 1¼–1½ hours until golden and tender – test by inserting a sharp knife through the potatoes.
7
Let it stand for five minutes before serving, sprinkled with small sprigs of thyme.
Prep Time
30 minutes, plus infusing
Cook Time
1½ hours
Nutrition Information
Per serving 232 kcals, protein 6g, carbs 27g, fat 12g,
sat fat 7g, fibre 2g, sugar 3g, salt 0.25g
Like this? Check out these other lower-cal favourites....
Hairy Dieters' Low Calorie Doner Kebabs
Chicken & Mushroom Casserole - 250 cals per portion
Hairy Dieters' 267 Calorie Chicken & Vegetable Pot Pies
Hairy Dieters' Lower Calorie Cottage Pie
Hairy Dieters' Thai Chicken & Coconut Curry