You can't beat a Thai green curry and if there's anyone's recipe we want to try on this, it's this one from TV chef Ken Hom.Chinese-American Ken is a culinary legend here in the UK, pioneering Asian cooking within these shores as far back as the 1970s. This year he celebrates the 30th anniversary of his TV cookery debut for the BBC and he's also just launched his own range of ready meals from Tesco.
Shallots, garlic and ginger are all key to this exotic recipe and are combined with succulent chicken and coconut milk for the familiar, fragrant and spicy taste of Thailand. Enjoy!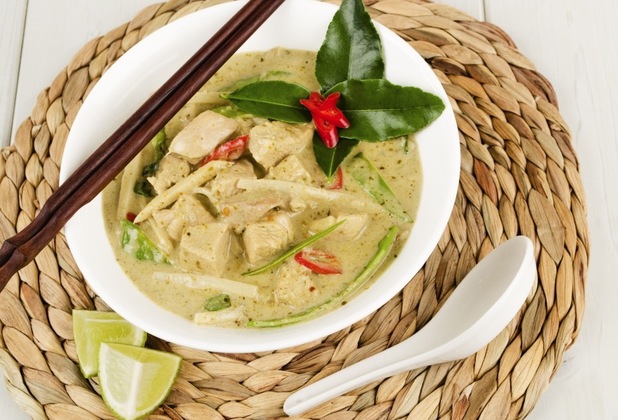 Ingredients
225g boneless chicken breast diced into 1inch pieces
1 teaspoon light soy sauce
1teaspoon shaoxing rice wine
1 teaspoon sesame oil
1 teaspoon cornflour
1 tbsp groundnut oil
1 ½ tablespoon finely sliced shallots
1 ½ tablespoon coarsely chopped garlic
½ tablespoon coarsely chopped ginger
1-2 tablespoons of Thai green curry paste
½ tablespoon fish sauce
1 teaspoon sugar
200ml coconut milk
Large handful of Thai basil leaves
Method
1
Combine the chicken with soy sauce, sesame oil, rice wine and cornflour. Mix well and leave to marinate for 20 minutes.
2
Heat the wok until very hot and slightly smoking, add the groundnut oil and marinated chicken.
3
Stir fry for 3 minutes or until lightly browned.
4
When the chicken is browned, transfer it to a stainless steel colander set inside a bowl, leaving behind 1 tablespoon of oil in the wok.
5
While the chicken is draining, reheat the wok, then add the shallots, garlic and ginger and stir fry for 3 minutes.
6
Add the Thai green curry paste, fish sauce, sugar and coconut milk. Turn the heat down and leave to simmer for 5 minutes.
7
Return the chicken to the wok and finish with the Thai basil leaves and serve with sticky jasmine rice.
Prep Time
30 minutes
Cook Time
15 minutes
Nutrition Information
Serves 2
More yummy curries for you to try:
One Pot Thai Potato & Chicken
Bombay Bacon Curry
Vegetarian "Chicken" Tikka
Coriander Chicken