Can a curry ever be healthy?
Yes, says Vishnu Natarajan, executive chef at
London's Carom Curry Club
and to prove it he invited us along to teach us how to cook this delicious Tiger Prawn & Ginger Tawa Masala with super-nutritious kale and bell pepper.
This does take a bit of prep and investment in spices - but it's really worth it. As Vishnu says, you can swap the prawns for your favourite protein and this recipe is so adaptable, you can cook it over and over again once you've got the base ingredients.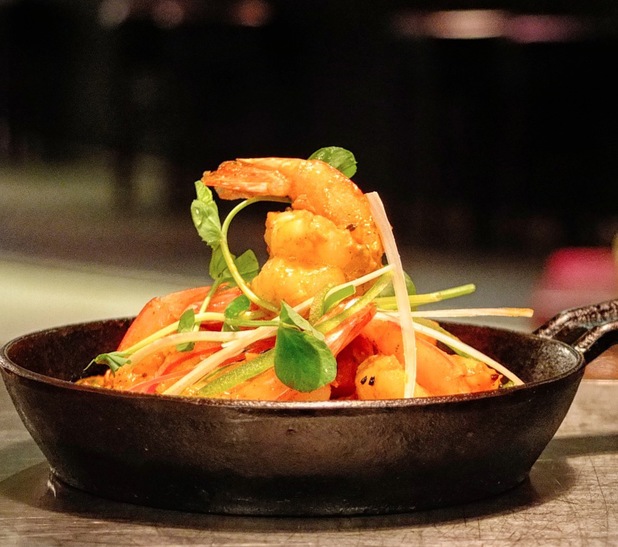 It's also a low fat, healthy spicy option for curry lovers who don't want to spend hours slaving over a stove...
Ingredients
40g Coconut oil
10g Carom Seed
700g Tiger prawns
200g Onion
40g Garlic
30g Ginger
100g Tomato
1 Bell pepper (red)
100g Kale
1 tbsp Turmeric powder
1 tbsp Kashmir red chilli powder
1 tbsp Coriander powder
50g Garam masala powder
10g Coriander leaves
10g Fenugreek powder
Salt to taste
Method
Preparation
(A food processor would be handy, saving time to chop the ingredients)
1
Take half the quantity of garlic, chop it finely. Keep it aside.
2
Add remaining half of garlic and all of ginger to make a semi-fine paste.
3
Chop onion, tomato, bell pepper and coriander leaves individually.
4
Peel prawns & de-vein them.
To Cook
1
Heat coconut oil in a heavy hot Pan or 'Tawa'. Add carom seeds to crackle.
2
Add onions and chopped garlic, and sauté to translucent; adding the ginger and garlic paste. Stir every couple of minutes.
3
Add tomato, bell pepper and fry for few minutes.
4
Add turmeric powder, coriander powder, red chilli powder and salt.
5
Toss prawns & kale in and mix well. Allow to boil for a couple of minutes.
6
Keep pan covered; complete the rest of cooking on slow heat, stirring frequently. Heat for 5-8 minutes till prawns are tender.
7
Add garam masala, fenugreek powder and coriander leaves. Mix in well before turning the heat off. Serve hot with rice or bread.
Prep Time
10 minutes
Cook Time
20 minutes
Carom Soho Curry Club's masterclasses cost £35 per head.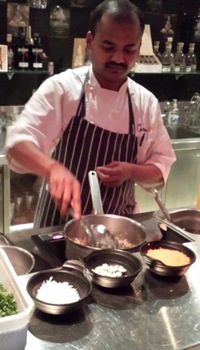 As well as a cooking demonstration, you get a behind the scenes tour of the kitchen, a cocktail and a three course supper. The evening is hosted by exec chef Vishnu (right).
More spicy recipes on reveal.co.uk
Easy Thai Prawn Curry
Home made Chicken Tikka Masala by The Hairy Bikers
Hairy Bikers Thai Chicken & Coconut Curry
Prawns in Tomato & Coconut Milk by Reza Mahammad
30min Bombay Bacon Curry