This week is the countdown to Shrove Tuesday, where delicious pancakes are almost obligatory. So why not try something different and serve up this fab combo of yoghurt and buttermilk pancakes topped with a vanilla, rhubarb and cinnamon compote?It's the ultimate New York-style recipe and is a delish brunch treat to enjoy with friends or family at any time of the year.
And a dollop of fresh yoghurt drizzled with honey really gives this treat some extra pizzazz. Doesn't it look amazing?
.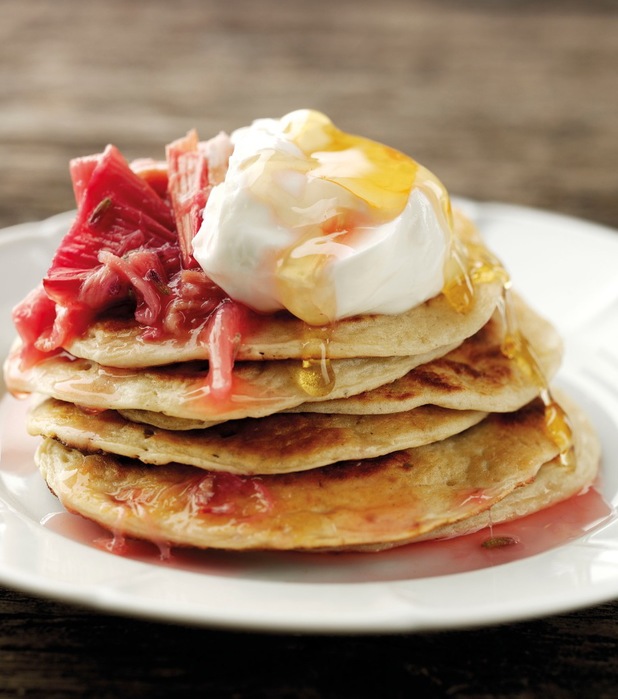 Ingredients
For the pancakes:
100g Fruyo Vanilla (0% fat)
220g plain flour
1 tablespoon baking powder
1 teaspoon caster sugar
2 eggs
150ml buttermilk
25g butter
For the rhubarb compote:
240g Fruyo Vanilla
12 sticks Rhubarb
50g caster sugar
½ teaspoon ground cinnamon
Honey
Method
1
Put all pancake ingredients (except the butter) into a blender and mix until nice and smooth. Leave to rest for approximately 20 minutes.
2
For the rhubarb compote, preheat the oven to 180C /350F/gas 4. Cut the rhubarb into 10cm/4" lengths and arrange in a single layer on a large baking tray.
3
Mix the sugar and cinnamon together and sprinkle over the rhubarb. Bake in the oven for 8-12 minutes or until the rhubarb is just soft to touch.
4
Remove, cool and then using a fork lightly crush the rhubarb into a coarse puree.
5
Stir the pancake mixture and transfer to a jug. Melt a little butter in a frying pan. Pour enough batter in the centre of the pan to make a 7.5cm/3" disc. Gently fry for a minute until bubbles rise to the surface. Using a palette knife flip it over and cook for 30 seconds more until cooked and golden. Repeat with the remaining butter and pancake mixture.
6
To serve, stack the pancakes on a plate. Serve with the rhubarb and cinnamon compote, a dollop of yoghurt and drizzle with honey.
Prep Time
25 minutes
Cook Time
20 minutes
Nutrition Information
Serves 4
More yummy pancake recipes:
Breakfast Pancakes With Crispy Bacon & Syrup
Pancakes With Caramelised Pear & Chocolate
Bubble & Squeak Pancakes
Banoffee Pancakes