Jazz up your standard granola breakfast with this yummy recipe. It mixes crunchy granola with bananas, creamy yoghurt and sweet maple syrup and is the perfect treat to start off your day.
Make at the weekend and enjoy with loved ones!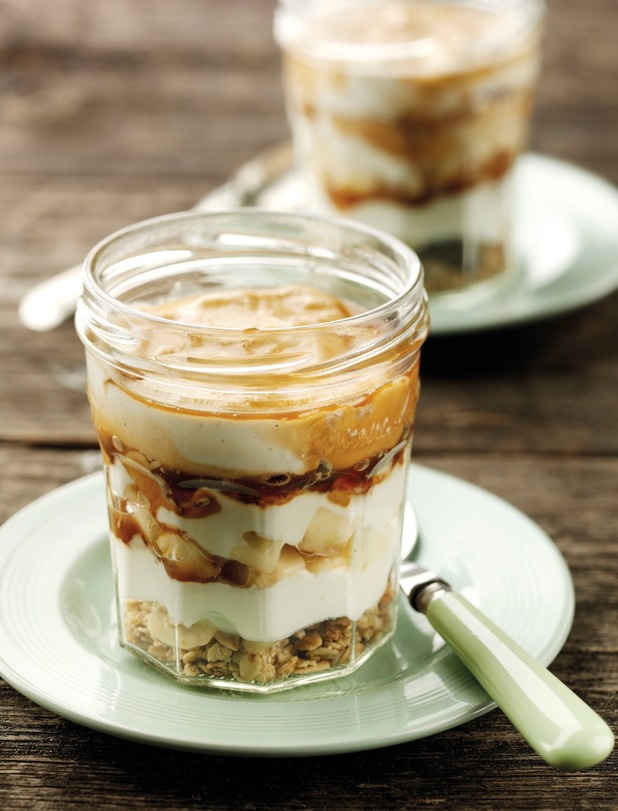 Ingredients
3 x Fruyo Vanilla pots
100g granola
25g pecan nuts, roughly chopped
2 bananas
½ teaspoon of lemon juice
6 tablespoons of maple syrup
To serve – Small jam jars (or similar sized container)
Method
1
Mix the granola and nuts together and divide each jam jar.
2
Spoon a thin layer of yoghurt over the granola.
3
Dice the banana and toss in the lemon juice to help prevent browning. Sprinkle the banana over the yoghurt in an even layer.
4
Top with another thin layer of yoghurt. Drizzle over a third of the syrup and cover with the remaining yoghurt.
5
Top with the remaining syrup and put the lids on the jars (or cover with cling film).
6
Leave the jars for a minimum of three hours, allowing the flavours to develop.
Prep Time
15 minutes, plus 3 hours resting time
Nutrition Information
Serves 4
More breakfast recipes to try:
Boiled Egg With Cheese Soldiers
Posh Bacon & Eggs
Posh Porridge
Pancakes With Crispy Bacon & Syrup