If you're making your own cheesecake, then there really is no better recipe than this classic New York method from celeb chef James Martin.
The recipe is courtesy of
Morning Sunshine
, a fabulous new recipe book from the charity Rays Of Sunshine, which grants wishes for seriously ill kids in the UK. Top chefs such as Jamie Oliver and Gary Rhodes have contributed recipes to this book, as well as the likes of One Direction and Kate Moss.
Lashings of double cream, fresh raspberries and smooth cream cheese are all key to this irresistible cheesecake. It's so good that one slice just won't be enough, though...be warned!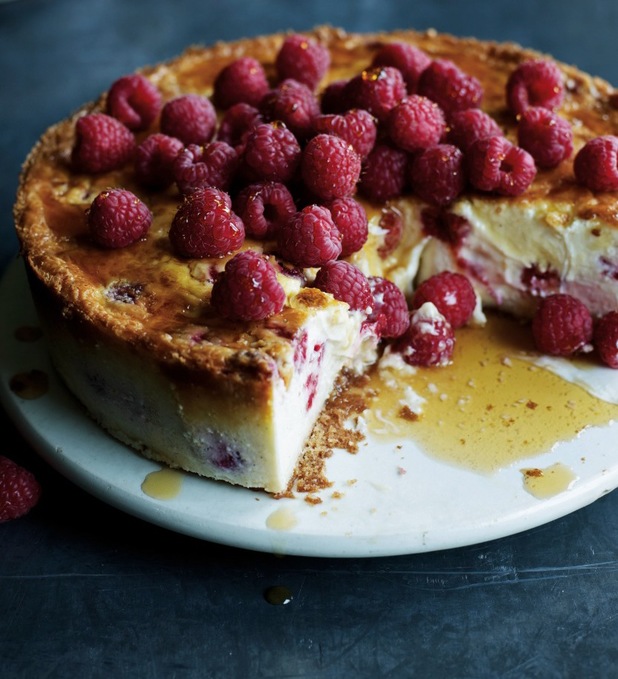 Ingredients
1 x 23cm sponge base
1 vanilla pod
Grated zest and juice of 1 lemon
200g caster sugar
50g corn flour
850g full-fat soft cream cheese
4 large eggs
375ml double cream
400g raspberries
150ml maple syrup
Method
1
Preheat the oven to 180C. Cut the sponge base to a diameter of 23cm if necessary, then slice in half horizontally to form a 5mm thick disc and place it in the bottom of a springform 23cm cake tin.
2
Split the vanilla pod in half lengthways and scrape out the seeds. Put the vanilla seeds, lemon zest and juice, sugar, corn flour and cream cheese into a bowl and whisk together.
3
Add the eggs, one at a time, beating well between each one. Add the double cream, whisking until the mixture is smooth, then add 250g of the raspberries and stir carefully through the mixture.
4
Pour into the cake tin and tap it lightly to settle the mix. Put the cake tin into a roasting tray, then pour hot water into the tray to a depth of 2cm to create a bain marie.
5
Bake for 1 ¼ and 1 ½ hours, until the top is golden and the cheesecake just set.
6
Remove from the oven and allow to cool in the tin. Remove and place on a serving plate, then top with the remaining raspberries and drizzle over the maple syrup. Serve with a drizzle of double cream.
Prep Time
20 minutes
Cook Time
1 ½ hours
Nutrition Information
Serves 6-8
Recipe taken from Slow Cooking by James Martin, published by Quadrille.Morning Sunshine is available here, priced £12. All proceeds go to Rays of Sunshine.
Like this? Check out these....
Eric Lanlard's Chocolate & Raspberry Tart
Baked Dark Chocolate & Ginger Cheesecake
Easy recipe for White Chocolate & Ginger Curd Cheesecake
Mary Berry's Easy Chocolate Brownies