With the chilly weather still around, there's nothing better than warming up with a bowl of hot soup and tasty bread.
This lovely recipe uses butternut squash and has a spicy kick thanks to the addition of chopped up chilli. Butternut squash is rich in vitamin E, which is a great immune system booster, so this soup will not only satisfy your taste buds but also fight off those winter germs. Result!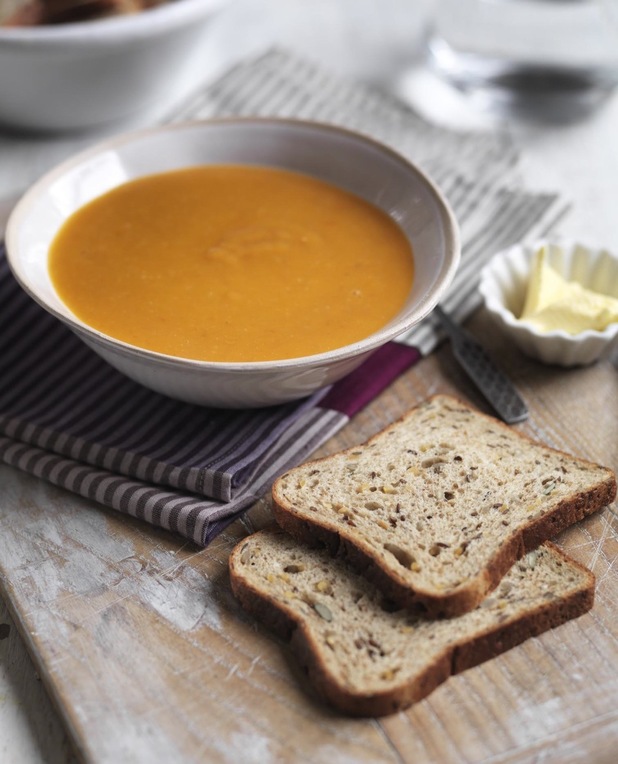 Ingredients
1 medium butternut squash – peeled and chopped
2 tablespoons olive oil
1 chilli - chopped and deseeded
2 potatoes – peeled and cubed
1 onion - chopped
1 litre vegetable stock
Salt and pepper
Method
1
Chop the butternut squash, onion and potatoes into cubes. Warm a large pot and add in olive oil.
2
Add in the onions & chilli and cook until soft. Then, add in potatoes and squash. Cook for a minute or so.
3
Add in vegetable stock and allow to simmer for about 30 minutes or until the potatoes and squash are soft.
4
Using a blender or food processor, blend the soup until smooth. If too thick, add a bit of water.
5
Season with salt and pepper and serves with two slices of chunky bread. Our current fave is
LivLife bread
which has half the carbs of normal bread so great for weight watching!
Prep Time
10 minutes
Cook Time
40 minutes
Nutrition Information
Serves 2-3 people
More warming winter soup recipes to try:
Chunky Bean Soup
Jo Pratt's Hearty Potato Soup
Feed four for under £2.50 with this hearty Lentil soup
Gennaro Contaldo's Healthy Italian Vegetable Soup