Culinary legend Ken Hom was the first chef to bring the secrets of Oriental cooking to British TV and this year he celebrates the 30th anniversary of his ground-breaking TV show, Ken Hom's Chinese Cookery.
So we're especially delighted to share his amazing recipe for a much-loved and classic dish - Sweet and Sour Chicken - with you. Doesn't it look good? And there's more classic recipes from Ken below. Enjoy!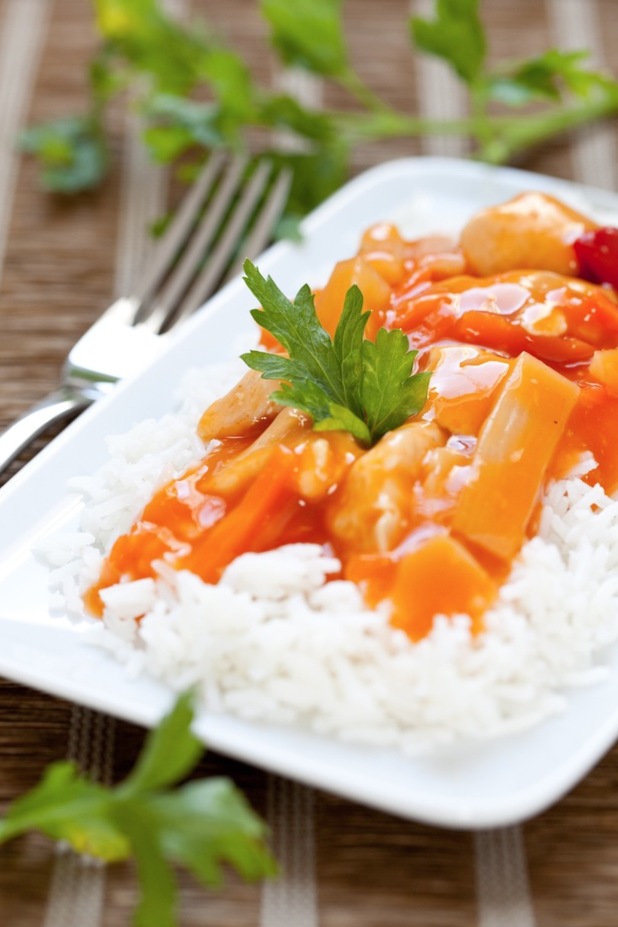 Ingredients
200g sliced chicken breast
2 tablespoons rapeseed oil
2 cloves of garlic, finely chopped
2 teaspoon finely chopped ginger
1 teaspoon grated orange zest
1 teaspoon grated lemon zest
100g diced onion or shallots
½ a red and ½ a green pepper diced
50g diced pineapple
1½ tablespoon granulated sugar
1tablespoon tomato ketchup
1heaped tablespoon plum sauce
1 tablespoon oyster sauce
½ teaspoon chili sauce or freshly chopped red chili
2 teaspoons soy sauce
2 teaspoons rice wine vinegar
5g freshly squeezed lemon juice
½ chicken stock cube diluted in 125g hot water
½ teaspoon cornflour diluted with 1 tablespoon of water
Method
1
Heat wok until smoking. Add one tablespoon of the oil and quickly fry chicken breast until browned and cooked halfway through. Remove chicken from wok and set aside.
2
Wipe wok and then add the remaining tablespoon of oil. Add the garlic and ginger and fry on a medium heat until lightly brown.
3
Add the orange and lemon zest, lightly fry with garlic and ginger for 30 seconds.
4
Add chopped onions or shallots, green and red peppers and fry off in the wok until lightly browned, but still crunchy.
5
Add diluted chicken stock, ketchup, sugar, plum sauce, oyster sauce, soy sauce and chilies to the wok and bring to simmer while stirring together.
6
Add the sealed chicken breast and cook through until tender. Then add the lemon juice and rice wine vinegar.
7
Finally add the diluted cornflour to the sauce and simmer for one minute or until it thickens and is coating the chicken.
8
Serve immediately and enjoy!
Prep Time
15 minutes
Cook Time
10-15 minutes
Nutrition Information
Serves 2
Download Ken Hom's 30th Anniversary Booklet here.
Try out these other Oriental dishes:
Ken Hom's Authentic Thai Green Curry
Ken Hom's Chinese Crispy Duck
Thai Potato & Chicken Curry
Sticky Vietnamese Pork & Mango Salad
Prawns In Tomato & Coconut Milk