What better excuse to dig into some Chinese food than the Chinese New Year?
Rather than heading to your local takeaway, why don't you try making your own authentic dishes? Crispy aromatic duck is a firm favourite but this method is pretty easy to do and the results will be well worth it!
This recipe comes from TV chef Ken Hom and requires preparing the meat a day or two beforehand, meaning it will be easier to cook on the day.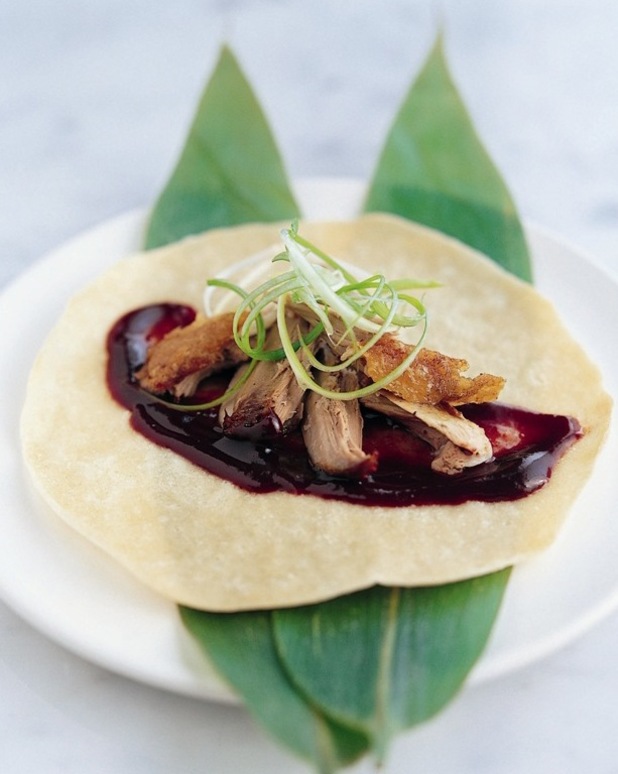 Ingredients
1 x 2.75 kg (6lb) duck fresh or frozen
6 slices of fresh root ginger
6 spring onions cut in to 7 ½ cm long (or 3 inches).
Cornflour, plain flour or potato flour for dusting
1.2 litres (2 pints) groundnut oil
For the spice rub:
2 tablespoons five-spice powder
765 g (2 ½ oz) Sichuan peppercorns
25 g (1 oz) whole black peppercorns
3 tablespoons cumin seeds
200 g (7 oz) rock salt
To serve:
Chinese pancakes
6 spring onions, finely shredded
Hoisin sauce
Method
1
If the duck is frozen, thaw it thoroughly, rinse well and blot it completely dry with kitchen paper.
2
Mix all the ingredients for the spice rub together in a small bowl, then rub the duck inside and out with this mixture, applying it evenly.
3
Wrap well in cling film and place in the fridge for 24 hours.
4
After this time, brush any excess spices from the duck. Stuff the ginger and spring onion on a heatproof plate.
5
Set up a steamer or put a rack into a wok. Fill it with 5cm (2 in) of water and bring to the boil. Lower the duck and plate into the steamer and cover tightly.
6
Steam gently for 2 hours, pouring off excess fat from time to time and adding more water as necessary.
7
Remove the duck from the steamer and pour off all the liquid. Discard the ginger and spring onions and leave duck to cool for two hours or until it has dried and cooled. At this point, the duck can be refrigerated.
8
Before you are ready to serve, cut the duck into quarters and dust with cornflour, or plain flour or potato flour, shaking off the excess.
9
Heat the oil in a wok or deep fat fryer. When it is almost smoking, deep-fry the duck quarters in two batches. Fry the breasts for about 8-10 minutes and the thighs and legs for about 12-15 minutes until each quarter is crisp and heated completely through.
10
Drain the duck on kitchen paper and leave until cool enough to handle. Then remove the meat from the bones and shred it, you can do this easily with a fork.
11
Serve with the Chinese pancakes, spring onions and hoisin sauce.
Prep Time
15 minutes plus 2 hours cooking and 24 hours cooling
Cook Time
2 1/2 hours
Nutrition Information
Serves 4-6
Ken Hom's range of chilled ready meals are available from Tesco. This year Ken celebrates 30 years as the nation's favourite TV chef, to download a copy of his 30th career anniversary booklet, head here.If you liked this recipe, then why not take a look at these?:
Sticky Vietnamese Pork & Mango Salad
Low Calorie Chinese Potato Cakes
Prawn & Mushroom Tom Kha Soup
Thai Style Prawn & Peanut Noodles
Easy Thai Prawn Curry